Secret southern jewel: TROPEA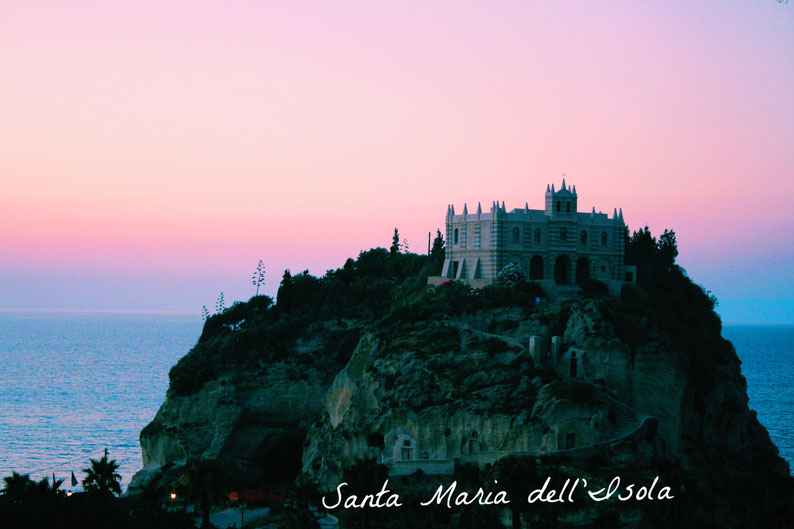 I went to the south of Italy around June 2015 and this budget trip was absolutely stunning with non to little tourism - except for local tourism. So I still want to share some tips on this hidden gem with the following blog post, written by my friend Elizabeth A. 
How to get there?
Today we bring to you our Southern Italy experiences. This was a holiday we both really enjoyed and we'll enjoy sharing our thoughts on the topic with you guys, as well. We don't pretend to be an official travel guide, there's heaps of books in the library, but we'd love to get you tickled to maybe put this one on the travel-bucket list.
So: we went to Calabria, the southern region of Italy, in the 'tip of the boot'
. The village where we stayed is called 'Tropea' (sounds a lot like 'tropic', now doesn't it?
 ). Since we were looking for a place that hadn't lost it's charm due to tourism yet, we didn't pick the place based on a travel guide. We looked for all possible airports and picked out a small one (the airline we used was Ryanair). Afterwards we went looking for nice places reachable and nearby the airport. Since it wasn't a very touristic village, we were very curious what our wild guess would bring. We must say, we couldn't have been happier!! Upon arrival, the first thing we saw was the crystal-clear blue water and we were sold right away.
But let's not get ahead of ourselves. To make it a bit accessible for you, we'll go the subtitle-way
 Let's go!
In order to get to Tropea, you have to fly to airport 'Lamezia'. Tropea is about an hour away from here. Since taxi's in Italy are horribly overpriced, and the public transport is very well developed, we suggest you to take the bus and train from the airport. Don't worry, it's not as hard as it sounds. Lamezia airport is very small, so don't fear getting lost. The shuttle bus to the train station stops right in front of the airport's door and only costs €1,50. Watch out, because you have to buy your tickets in the little news stand inside the airport. When you get to the train station, you simply buy a ticket to Tropea. Don't be surprised when you only have to pay €4 for this trip, that's actually the correct price. We didn't see that one coming since a one hour-train trip in Belgium can cost you easily over €10. So far so good.
Where to stay?
Concerning your stay in Tropea: we stayed in hotel 'La Perla'. We made this choice because it seemed to us the best price/quality-ratio at the time. We booked via booking.com. At arrival we received a warm welcome by the lady at the reception. All people here were very helpful. Our room was a basic double-bed room with a small bedroom and tv. Great plus was the free WiFi access in the whole hotel. Let us put it this way: La Perla was definitely not 'le grand chique', but it was a very neat hotel living up to the promises in it's booking.com reviews.
We booked the breakfast-included formula, and we couldn't really complain about the breakfast either. Croissants, fruit, yogurt, bread, muesli,… And especially A LOT of freshly baked cakes. If you're a cake-lover you won't be let down. We were mostly one of the last people to show up at breakfast (oops! ) but by the end of our stay we found out that you can ask the personnel for extra croissants (HA!).
Of course, depending on your needs and budget, there are plenty of other options. We found La Perla to be a great hotel for young girls like us with a limited budget who wish to stay close to the center. We paid about €250 for 2 people, for one week, breakfast included. On booking.com you can find a bunch of other places to stay, for example some B&B's located right in the village's center, and hotels close to the coastline with a nice pool.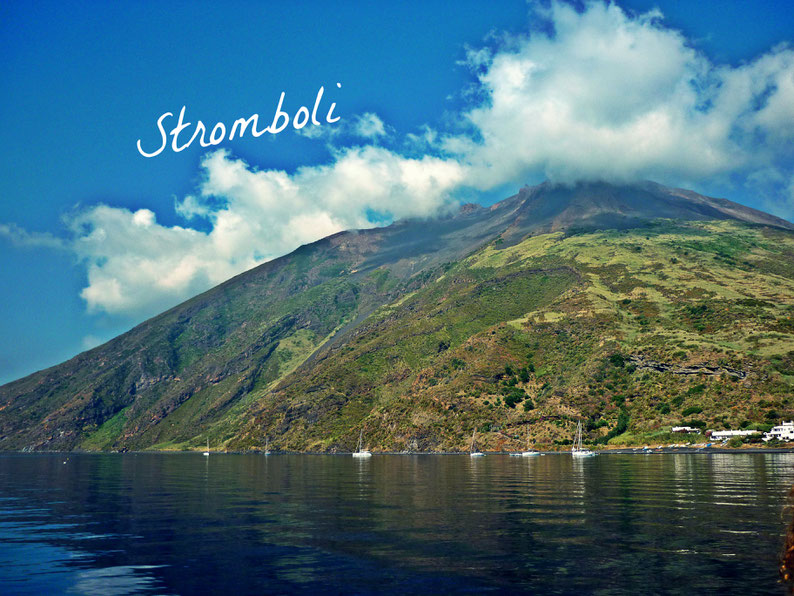 A small active-volcano island in the Tyrrhenian Sea off the north coast of Sicily... where we stranded because the boat forgot us. 
What to do?
Don't get us wrong, tanning is a lot of fun, and if you're planning a tanning-only holiday, Tropea is totally great for that, too. The amazing cliffs at the beach offer you an opportunity to proof how badass you are, as well
But we wanted to make our trip a little more than only hanging around at the beach. So we went looking for some through-the-week-activities. They weren't hard to find. Although there weren't a lot of foreign tourists around, it was pretty clear that the Italians do enjoy spending their holidays here. We filled our days with a lot of swimming, tanning, laughing and GoPro-fun, but we also planned out some boat trips. The agencies planning those excursions are easy to find. We booked ours with CSTtropea. Depending on what you would like to do, there's a wide choice of activities. We chose the 'isole eolie' trip and the half day snorkling trip. Apart from those you could also book a stromboli trekking trip (climbing the volcano), a stromboli by night boattrip , a full day snorkling trip on a fishermen boat (fresh fish-lunch included), and also tours throughout the countryside on a bus. Also, you could take a horse-rising or Vespa trip. All those trips cost between €25 and €70, the most expensive being the volcano trekking. If you're not so into group excursions, you could also rent a scooter, car or boat and go explore by yourself.
Let's tell you something about our excursions, because really, you'll enjoy reading this.
The first trip we took was the 'isole eolie' boat excursion. We were really siked about this one, since it would take us to the Stromboli-volcano island first, then we'd visit Lipari, an island with a history, and last but not least we'd go to Vulcano, a natural spa-island. Oh yes, we were looking forward to our mud bad. But that was too good to be true.. Here's the story:
WARNING!
We took off at 7.30 AM, so we woke up horribly early to make it to the harbour in time. Needless to say we weren't little rays of sunshine at the time, but well, we could handle it. On the boat we enjoyed the rising sun. Our first stop in Stromboli went well. At least that's what we thought. While we were on the boat, we realised that we both weren't wearing a watch. So it would be a problem to get back to the boat in time.. But no problem – problemsolvers solved the problem. We set our camera's clock, and decided that this would do. Well, it didn't. By the time we arrived back at the harbour after having a drink in the (very tiny) village, our boat had left. The problem was, we had two camera's, and apparently one of them got the time all wrong. So there we were. Two idiots, no phone, hardly any money, no boat, stuck on the tiniest island for miles around with people who hardly understood a word we said. Honestly, we weren't winning any prices for the brightest smile at that time, either. But we trusted in the kind people of Stromboli. Oh boy, that didn't last too long. When we went to the touristic information service, they seemed very shocked themselves, as if no one ever had missed a boat here. We were panicking just a liiiiiittle bit.. By the time the next person we asked for help directed us to the police station, we were pretty sure we'd never get off that friggin island. At first they'd gave us hope, bursting the bubble by telling us the next boat would only be in 3 days - we didn't even had money to overnight here for 3 days and that would also mean we'd miss our flight back home. So that's when we almost started to cry LOL. 
But oh how we love the carabinieri. Those guys were awesome. They started calling the boat agency right away and before we knew it they decided to take us to Volcano so we could get on our boat again. I guess it helped that they both really loved Belgium and especially our 'birra'
. After about half an hour or longer at the police station, the plans had eventually changed into: you have to take another boat at 5 PM and this one takes you 'home'. They even wrote us a little note to make sure we wouldn't forget. Too bad we forgot to ask for a selfie
 but oh god how happy we were. So at the time it was about 11 AM and we were stuck for another 6 hours on this teeny tiny island. Needless to say, we are not the biggest Stromboli-lovers now
 but we made it through the day anyway, by beach-bumming all day long (aka roasting on a black-sand beach and going home like red lobsters). 
Not sure what hurted the most: the fact we missed out on the spa-island or the fact we paid to do absolutely nothing for a whole day. So if you'd like to know what Lipari and Volcano are like: try it yourselves and let us know! Don't forget to wear a watch. 
Price: €35 pp.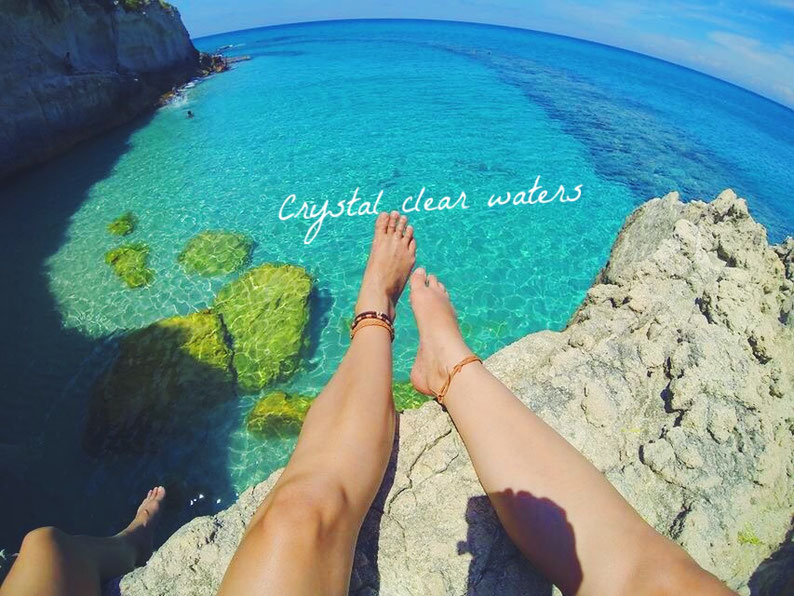 Snorkeling
The second trip we took was on Elizabeth's birthday. The snorkeling trip was really really awesome. The agency picked us up at the hotel and dropped us off at the boat. There were about 10 people on the boat. The captain showed us the great view from the boat of the coast side of Tropea and Capo Vaticano and took us to places that were perfect for snorkeling. For the snorkel-lovers among-st you: lots of cute fish around here!
The captain offered everyone a glass of wine, homemade by his father (damn tasty!). We had a great day that totally made up for all the misery of our Stromboli-hell.
Price: €25 pp.
If you're not planning on booking excursions, don't worry, you can just enjoy exploring Tropea's beaches  or take a walk up the stairs to the Santa Maria dell' Isola church. There's also plenty of souvenir-shops! Oh, and DEFINITELY check out the beautiful sunsets you can easily observe sitting on the stairs leading to the center of the village..
Food
You're probably thinking by now 'it can't ALL be good'. Unfortunately, it can't. Being huge food-lovers, we were a little bit disappointed in the food-options Tropea offered. At noon: no problem. You can have tasty bakery-goods or a delicious paninis in most of the little bars on the main street. Our problem was mainly dinner. We went looking for a great pizza or pasta and honestly, they were pretty hard to find, or we were just very unlucky to pick out the wrong places. Another disappointment was the endless search for tiramisu. Apparently Calabria isn't the region for that. We did manage to find a good, oven baked-pizza one night though, in 'Ristorante Il Normanno', near the cathedral. Also, there's lot of places were you can have a good cocktail -duh, important-, we especially enjoyed ours at 'Bar Veneto' on the Piazza Vittorio Veneto. To be honest, we did get a red-wine shower here, but the waiter guaranteed us this was the first time something like that happened. 
But the one place we would really recommend, is our all time-favorite bar: 'Made in Sud' on the Viale Stazione. They serve the most heavenly paninis !!!! DEFINITELY a must try!!
Of course, a week is not long so we couldn't try out a lot of restaurants. According to some other blog posts the food in Tropea is heavenly, so I recommend to research in advance some good dining places so you won't be ending up disappointing as a food lover.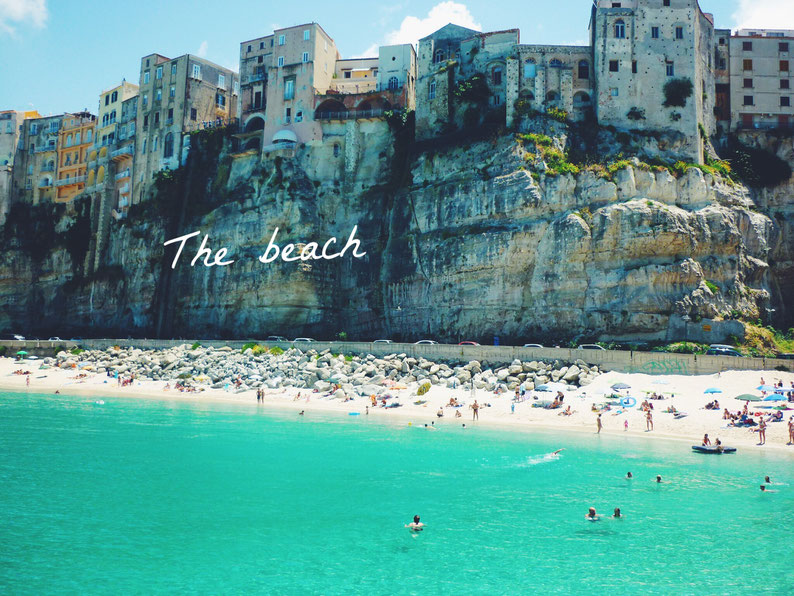 To sum it up: we are big fans and fell in love with Tropea! The weather was great, the beach was stunning and not too crowded (although Italian men will be Italian men: being a woman you'll get the obligatory 'Do you know the time?'-question by men wearing a watch every now and then.. Luckily we never wore a watch, pretty clear after the Stromboli trip. Furthermore the snorkeling was magnificent, the panini's were delicious and the people were friendly. 
We really recommend this place if you like to travel to a not touristic destination with pristine nature where you'll always find something fun to do! Oh, did we mention, 'La Costa degli Dei' is the name the locals call this place, or in other words: 'coast of the Gods'.. See for yourselves!
Photos all rights reserved. Ask permission to use.