SUP Tours Philippines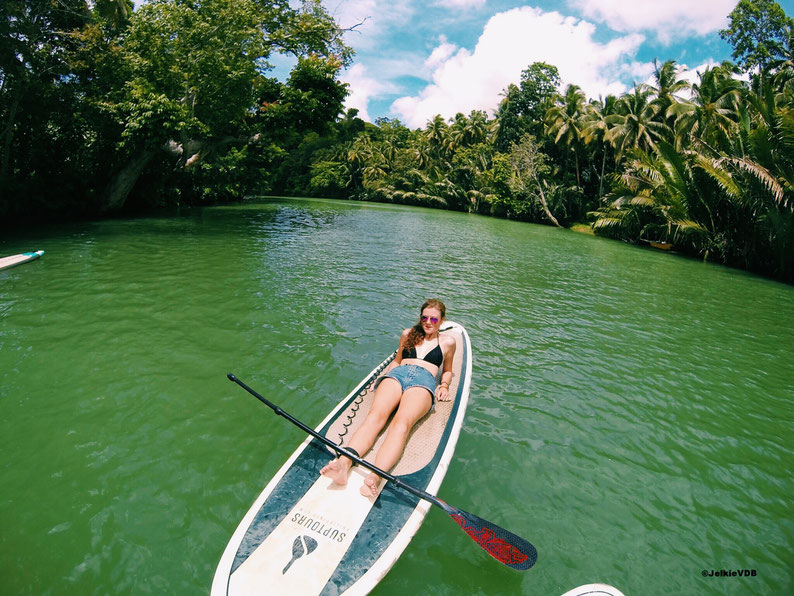 I decided to revisit Bohol and include a little eco-adventure in our two-day travel itinerary. We spent a day at the beach and another day of exploring the countryside by motorcycle.
Short introduction for those who have no idea about Bohol: it's a beautiful province in Central Visayas holding some of the majestic tourist spots of the Philippines. Extraordinary landscapes, world's tiniest cuddly monkeys (jep you wanna google it now: Tarsiers), powdery-white soft beaches and world class diving spots. It's the perfect escape from the big city life with unbearable humidity that squeezes the sweat from you like a sponge. This province is very accessible and easy to travel through compared to other places in the Philippines, perfect for travel dummies in the Philippines.
How to get there
We hopped on a ferry from Cebu City port to Tagbiliran port on Bohol island. The ferry we took was Oceanjet and costs 1000 PHP roundtrip (around €20). Once arrived at the port and bombarded by an invasion of tour companies, we chose for the cheapest option and hopped on a tricycle to Alona Beach in Panglao Island. It's a peninsula 30 minutes away from Tagbiliran port in the southwest region of Bohol, famous for its powdery white beaches, island hopping and turtle sanctuaries along with dolphin watching. (Highly recommendable if you would have extra time to spend in Panglao: go to Balicasag Reef and Virgin Island). The water in Alona Beach is pretty clear but we went during rainy season on a windy day so unfortunately we only got tangled beach hair and gained weight by eating the day away at the beach.
How to enjoy ecotourism
The usual countryside sightseeing includes the Chocolate Hills, the man-made forest, the Philippine Tarsier and Wildlife Sanctuary, the Hanging bridge and Loboc River. Best way to immerse is to rent a motorcycle and go around yourself. We took a van to Loboc River and snagged a rental bike for 350 PHP at the office of SUP Tours Philippines. Don't worry to get lost, all of the main attractions are easy to find. 
If you want to explore Loboc River to the fullest book a tour with SUP Tours Philippines. Beautiful luscious palm trees, graceful beginner movements and a sense of peace and tranquility *aww cute jungle experience*. We only spent one hour of stand-up paddle boarding on the river due to lack of time. So you should wake up very early, take up the paddle board tour and continue the afternoon exploring the country side. The SUP tour includes a professional instructor who will provide short introduction lessons and guides you further on the river - he also took awesome footage of us with the Go Pro yay. And no there's no crocodiles.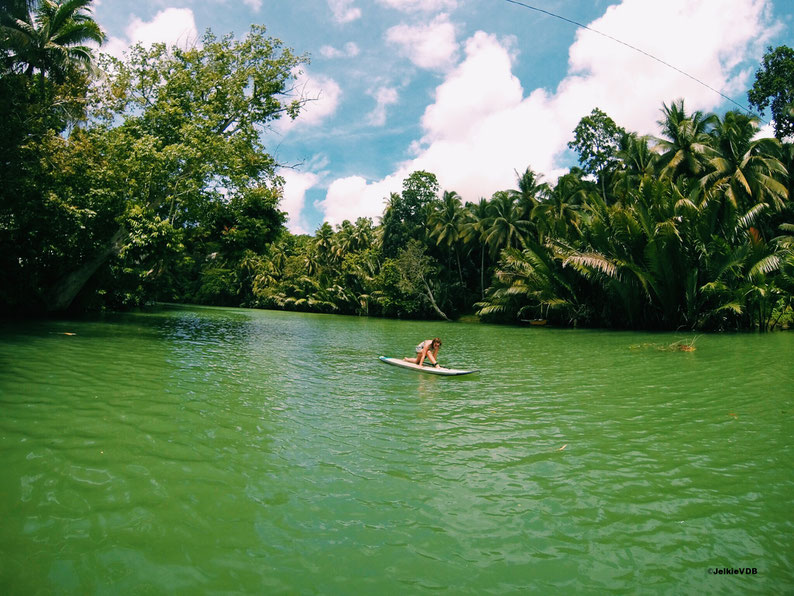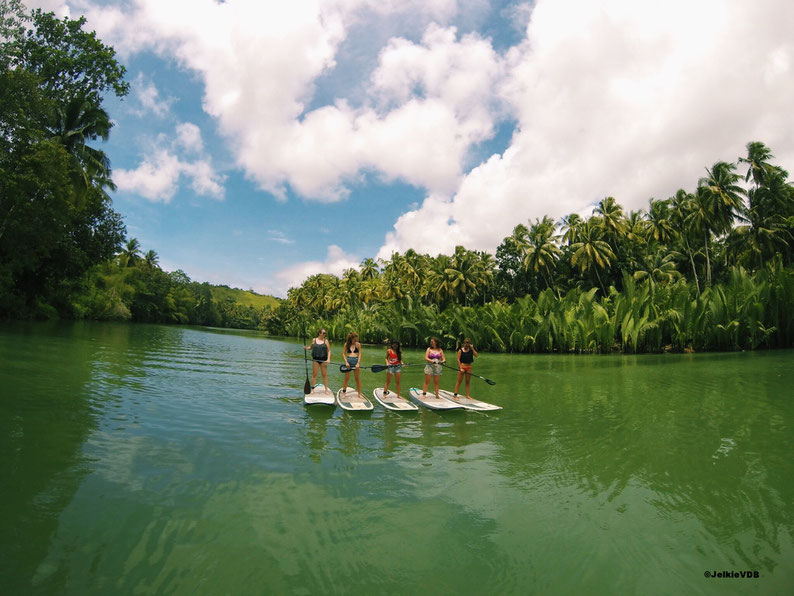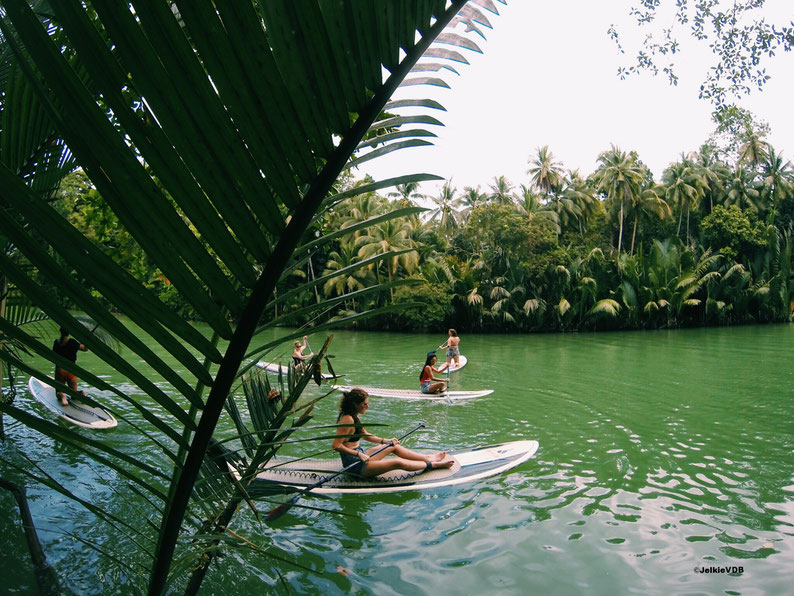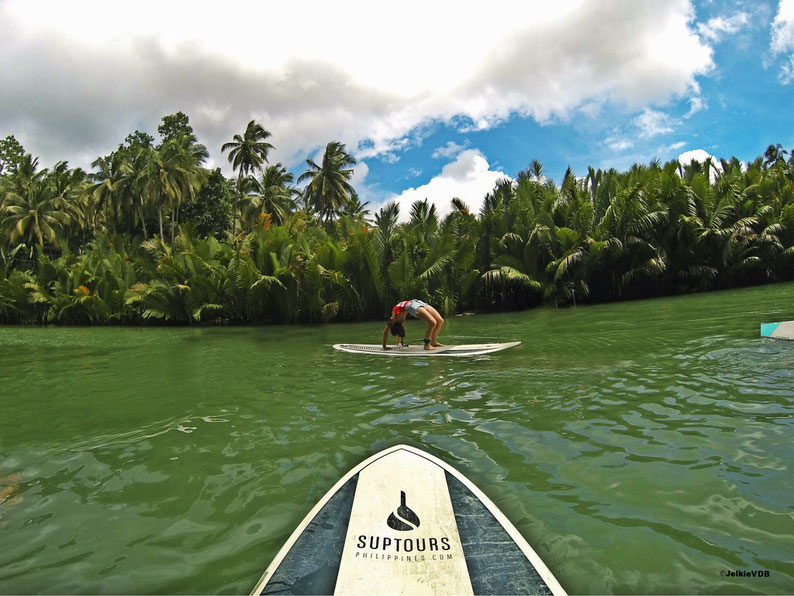 Where to stay 
I can only recommend two places since I haven't tried any others out yet.
PANGLAO ISLAND: NATURA VISTA
Peaceful, cute and very friendly staff. It's away from the crowds so you shouldn't stay here if you like to immerse in the night life of Panglao Island. To be honest, at first we didn't had any high expectations booking this place on Agoda, it just seemed something simple to stay over for one night. It turns out this place has much more charm than we expected. The cottage was actually really spacious, cute and clean. It kinda has of an old smell when you enter but this didn't bother us at all. Staff is outstanding, excellent service and very friendly. There's a quiet beach 10 steps away and the cottages have little hammocks on the terrace. This place is perfect for budget travelers!
A Belgian low-budget jungle resort located in Loboc perfect for relaxing and chilling in luscious green sceneries. The location isn't very accessible but it's totally worth taking up the walk with 250 steps uphill. To say we were happy to have arrived and drop the backpacks would be an understatement.