Itching to see the majestic ruins of temples and discover the glorious era of the Khmer empire? You probably already have your sunblock and guidebook ready, but there is a way to travel wiser! Siem Reap is not as cheap as one would imagine. It is only an affordable travel destination when you're good at bargaining and are adventurous enough to avoid touristic areas. Check out these tips to make the best out of your budget, after all, you don't have to always open your wallet to have a good time.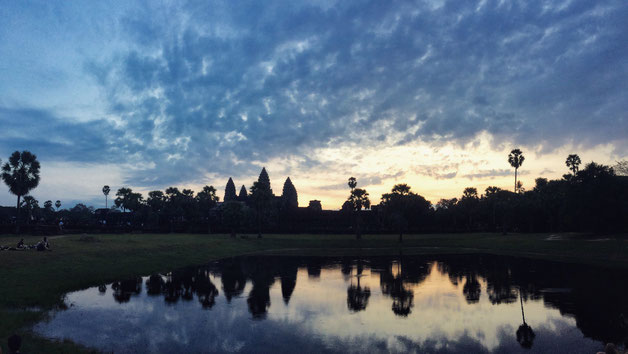 One of the best ways to enjoy a trip is through a country's cuisine. As a foodie, eating takes up a huge portion of my expenses when it comes to traveling. Dining in the famous Pub Street and its neighborhood, which is also where most tourists go for shopping and nightlife, is more expensive than other southeastern cities I have been to. A Khmer meal for two, including 3 dishes and drinks (say, a dish of the famous lok lak beef, amok fish, fresh spring rolls and 2 cups of coffee) can easily sum up to $20. Even though the food I had in Pub Street were absolutely delicious, I'd say restaurants located in this street and its surrounding areas are overpriced considering how Khmer dishes are made with basic ingredients that are abundant in Cambodia (duh!) and you can easily find Khmer restaurants that are as authentic but priced reasonably in other less touristic areas. Ask your hotel receptionist or a tuk tuk driver, they will gladly recommend places where you can find proper Khmer dining places that are less expensive. A tuk tuk driver who drove me around for 6 days showed me a homey restaurant and I ended up having the cheapest and one of the best meals in Siem Reap.
I discovered heavenly dishes cooked with turmeric, cilantro, coriander, lemongrass, tamarind and other herbs and spices in Cambodia, and started wondering why Khmer food is so underrated when its neighboring countries' cuisines like Vietnamese and Thai food are taking the world by storm. Khmer chefs use variety of herbs and spices, giving dishes a distinctive aroma that goes perfectly with sauces. I couldn't get enough of tuk meric, a simple dip made from fresh lime juice and pepper. It is appetizing and pairs well with spicy food.  
Here is some Khmer food you must try: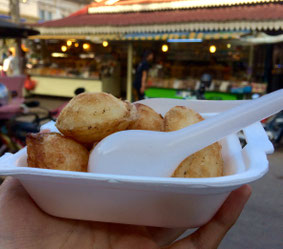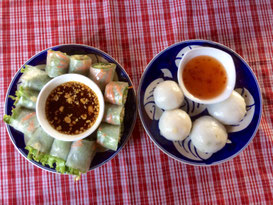 Although western food can be easily found in downtown Siem Reap, I am glad to see that there are not many franchised restaurants(at least not global ones), throughout the trip I've seen only two restaurants that I know of. You can find traditional Cambodian dance performance (Apsara dance) at restaurants, this performing art is treasured greatly by the locals and is one of the best ways to spend an evening in this city. Compare to some other southeastern countries where commercialization and Americanization are taking over, Siem Reap is still pristine in terms of conserving its cultural identity. I sincerely hope this does not change despite the influx of tourists.
Rule of thumb when you travel to pretty much anywhere in Southeast Asia: bargain and bargain hard. Same goes in Siem Reap, whenever you take a tuk tuk or buy souvenirs at night markets, you must bargain. I was walking around Angkor Wat and was tailed by a kid who was selling books on history of Khmer empire, he gave me the price of $28 and eventually he offered $5 when I did not show interest. A 20 minutes of tuk tuk ride from downtown to the spectacular UNESCO heritage site temples of Angkor normally cost $5 and a tuk tuk driver offered me a price of $10 and it took me some effort to talk down to a reasonable price. I understand it is a golden opportunity for business and people are merely making a living, but I believe in paying for what things worth and I refuse to be ripped off for being foreign. Siem Reap is an absolutely wonderful place to travel to especially for backpackers, which means most are traveling on budget so it is important to haggle or you might end up paying more than you should. Saving a bit here and there goes a long way.
If you're ready to travel to Cambodia you probably already know that people use both USD and Cambodian Riels. Even though both are acceptable everywhere, it's better to use USD and exchange a bit of riels at the airport when you land (around $5-10 worth of riels will be enough for a six-day trip). Some vendors will not have enough change if you pay with a 5 or 10 dollar notes, so either make sure you have some dollar notes, or prepare some riels for transportation or tips. Or if your wallet is big enough, feel free to only use riels and enjoy being a millionaire for your trip in Cambodia!