The unpredictable rain has finally subsided, prepare your sunglasses and swimmers because here's a list of my favorite beaches (some might be underrated) that fellow beach bums should totally pay a visit in Hong Kong!
Repulse bay
Probably the first result that pops up if you search for beach in Hong Kong. Repulse Bay is only 20-25 minutes away from city and has a beach front bar, a kiosk and public WiFi. Despite its rather rocky sand, it is one of the most popular beaches in Hong Kong for its convenience. Stanley, a fantastic place for souvenir shopping and a bit of sightseeing (Tin Hau Temple and Murray House), is just 5-10 minutes of bus away from Repulse Bay. Spend a couple of hours on the beach and head to Stanley for a breezy walk (and come across with dozens of dogs!) on the promenade and dine at Beef & Liberty at Stanley Plaza would make a peaceful day on a weekday. Yes, weekday, Repulse Bay and Stanley can be unpleasant on weekends when it's packed with both tourists and locals.
How to get there: Take 6, 6A, 6X, 66 or 260 from Exchange Square Bus Terminus in Central (Exit D of Hong Kong Station).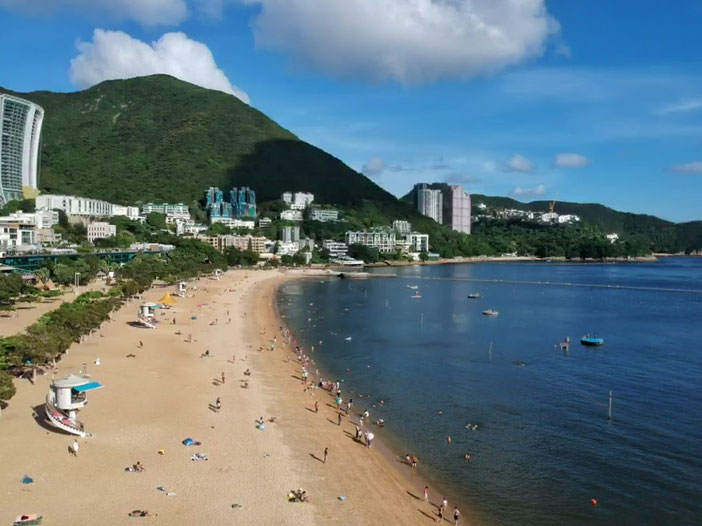 Chung Hom Kok beach
This beach is usually undisturbed because it's not well known or convenient as beaches nearby like Repulse Bay or Deep Water Bay. That being said, it has a BBQ area, shower room and a snack shop. It's a small beach and generally nicer than Repulse Bay (smoother sand and cleaner water!). The only thing that bothers me is that it's a no drone zone, a lifeguard came to stop me two minutes into flying because I was bothering nobody on an empty beach (?). Good thing Repulse Bay is 5 minutes of bus away from this one.
How to get there: Take 6X, 63, 66 or 973, drop off at Chung Hom Kok Beach stop, follow the sign and walk for around 8 minutes.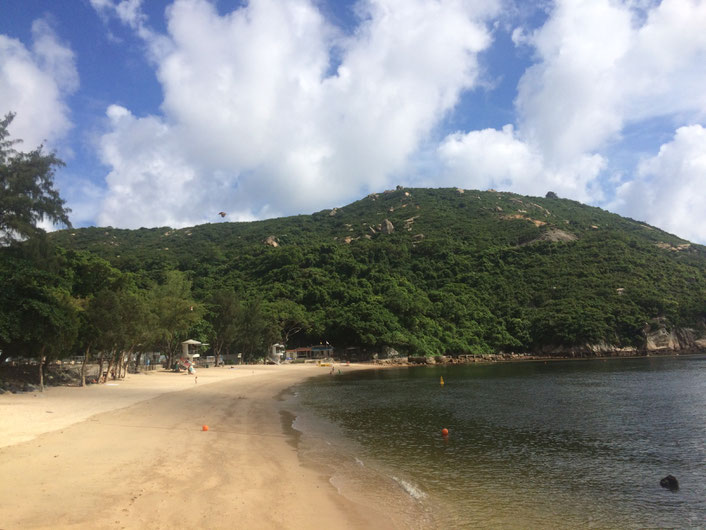 Half Moon Bay
Half Moon Bay is also called Hap Mun Bay, it takes a while to reach but the journey is totally worth the time. Here's what you can do, feast on fresh seafood in the Sai Kung Pier, get your ferry tickets from any booth by the pier for around HK$80 for back and forth, enjoy a 20 minutes of breeze and view until you reach Half Moon Bay, spend an hour or two on the beach and head back before 6pm (last boat from most of the ferry companies). Shhhh here's a secret: there is a hidden path on the left side where the public restrooms are that leads you to a lookout! It gives you an incredible  view of the beach and also peace away from the crowd.
How to get there: Take bus 92 from Diamond Hill Station, drop off at Sai Kung Pier (the last stop) and get a ticket from any booth at the pier.
Or, take minibus 101M from Hang Hao Station, drop off at Wai Man Road, Sai Kung.
Big Wave Bay
One of the most beautiful beaches in Hong Kong with fine sand and easy accessibility. Start with popular hiking trail Dragon Back from Shek O, where you get to feast eyes on Big Wave Bay Beach from the lookout. It takes around 3 hours to finish hiking and arrive Big Wave Bay, it is a popular place for surfing when it is not too crowded. I'd suggest to visit on a weekday morning to avoid the crowds. If hiking is not your thing, Big Wave Bay can be easily reached by bus and minibus. Shops near the beach are seizing the opportunity of the flocking of tourists so you can pack light cause you can find pretty much any beach necessity as well as western and Eastern food around. Just that restaurants close early, around 6pm so plan your beach day well.
How to get there: Take bus 9 from Shau Kei Wan station (exit A3), drop off at Big Wave Bay Road and walk 10 minutes.
Lower Cheung Sha Beach
I go there often enough to call it home. This chill place is located in Lantau Island, an hour away from Hong Kong Island. For adventure seekers, this might just be the perfect place for a getaway. You can do surfing, skimboarding, kiteboarding, kayaking, stand up paddle boarding and windsurfing by renting equipment from Long Coast Seasports, a water-sports shop with private rooms and a glamping site. Food is unexpectedly more expensive but it comes with value. Long Island Restaurant has one of the best chocolate cake I've ever had and its coffee is wonderful. Also check out Di Jerk Shed, great Caribbean food and imagine listening to reggae music by the beach. Enough said.
Sometimes it might get crowded on weekends and holidays, but you can always kayak or paddle board all the way from Lower Cheung Sha Beach to Upper Cheung Sha Beach for some peaceful moments. Upper Cheung Sha Beach is a hidden gem because there is nothing much on it, which is perfect for people who wish to sunbathe and read a book without nuisance. Surfers go there when it gets wavy and there are some locals walking their dogs occasionally. If you're an active person and want something more exciting, paddle board or kayak to Turtle Island. It's a deserted island 2km away from Cheung Sha Beach, an alternative for a peaceful afternoon. Turtle Island doesn't have a beach but it's skirted by gigantic, odd-looking boulders. Before heading there you should consult workers at the shop first because the water can get wavy and it's energy demanding to get there, it took me around half an hour to kayak to the island and another to go back and resulted in 2 days of sore arms.
How to get there: Take bus 3M from bus terminus in Tung Chung (exit B), drop off at Lower Cheung Sha Village.
Or, take a ferry from Central Pier to Mui Wo (Central Station Exit E), then take bus number 1 and drop off at Lower Cheung Sha Village.