DIY guide to Mount Bromo in Indonesia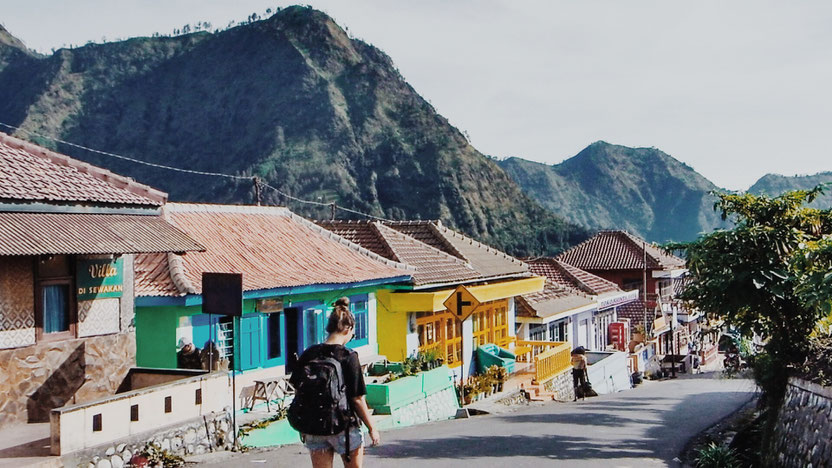 Venturing to the highlands of Mount Bromo was the best decision we made throughout the second leg of Indonesia. The initial plan was heading back to Bali again after exploring the magical Komodo Islands (itinerary for this trip coming soon). Unfortunately, we woke up to a wholesale of cancelled flights as Mount Agung started gushing ash. The highest-level aviation warning left us stranded in Labuan Bajo, a small dusty harbour town with not much to offer.
FTW, neither lightning, nor a flock of birds will damage aircrafts, but flying through volcanic ash particles can cause jet engines to shut down completely. British Airways and KLM experienced this before when flying through volcanic clouds near Alaska and Indonesia, resulting in a four engine failure. Luckily crew members were able to restart the engines. ANTICLIMAX, instead of waiting for Bali´s Airport reopening, we decided to take detour flights to Java. Trading in the island life for adventure and outdoors.
Besides the fact that we desperately wanted to leave the small fisher town, we didn´t want to be part of the stereotype tourists using the erupting volcano as a backdrop for the so called once-in-a-lifetime shot. Bikini selfies in front of the erupting volcano have been flooding Instagram, causing controversy as locals fear for their homes and livelihoods. Instead, we chose to explore Mount Bromo. An active volcano located in Tengger Semuru National Park, notable to many for her glorious sunrise views. Although it is one of the most visited tourist attractions, this majestic beauty is definitely a place one should scratch off the bucket list.
It´s easy to think you've seen it all, but the astounding remote landscape at Bromo Tengger Semeru National Park did not disappoint. Too much beauty and splendour to capture. Well actually, we forgot our Go Pro gear. FAIL. But really, it exceeded all our expectations. Lunar, dusty and a landscape from another planet is what we experienced while walking through the Sea of Sand. A unique natural phenomenon created by the lava floods. You have to walk this way, which takes approximately an hour and half, before reaching the crater of Bromo. There weren´t any crowds as we hiked the trail for sunset. Tourists usually head to the crater after Bromo's sunrise view point, so make sure to do it the other way around.
Furthermore, tourists usually sign up for a tour package with ´private´ transport and pre-booked accommodation. Eventually, ending up at the view point packed with boat loads of tourists. If you´re up for a little adventure, avoid the tourist trap and make the trip more authentic by hiking the trail independently. Every local in town will tell you it's dangerous, too far and hard. MORE LIES. Hopefully this 2D/1N itinerary will help you make the most of your trip. I personally found it somewhat confusing when gathering information online on how to efficiently do this trip.
DAY 1:  
1PM: ARRIVAL CEMORO LAWANG 
3PM: WALK THE SAND OF SEA TO THE VOLCANO CRATER 
DAY 2:
3AM: WAKE UP EARLY TO HIKE MOUNT BROMO VIEWPOINT 
7AM: POSSIBILITY TO DO MOUNT IJEN (recommended to take a tour for this one because the Sulphur gasses are poisonous)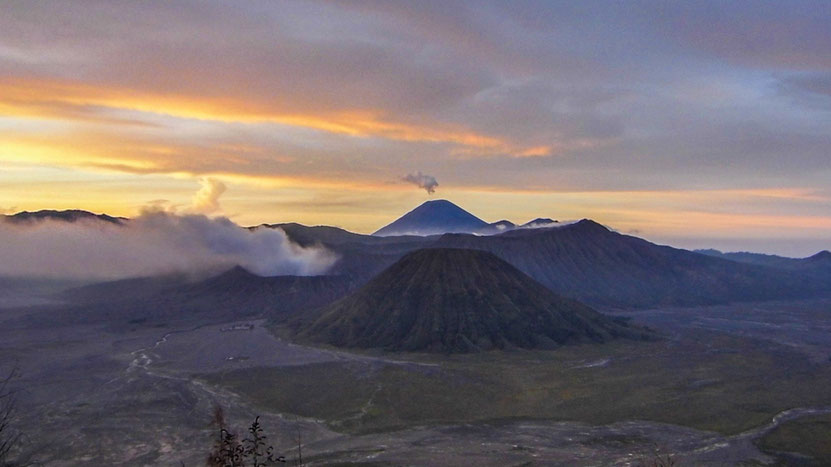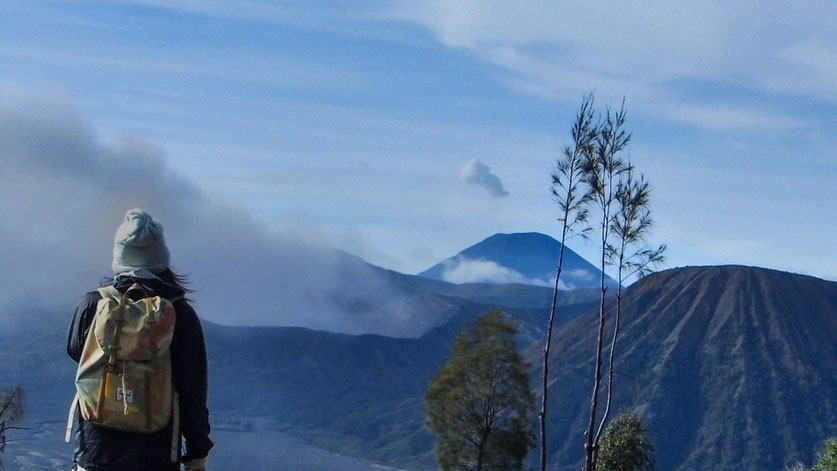 HOW TO GET THERE?
STEP 1: Surabaya to Probolinggo
There are two stops before reaching Mount Bromo: Probolinggo and Cemoro Lawang. Our travel route started from Surabaya (Gubeng Station) , where we took on a scenic train journey all the way to Probolinggo. Price for a ticket should be around 140.000 IDR in executive class, 95.000 IDR in business class and 35.000 IDR in economy class. However, tickets are cheaper when you buy it at the counter in less than 2 hours before departure time. One way ticket from Surabaya to Probolinggo costed us only 65.000 IDR in executive class. Note that this last-minute strategy includes the risk of fully booked seats. Train ride takes about 3 hours.
Step 2: Probolinggo to  Cemoro Lawang
Take a yellow mini bus opposite of the station´s main entrance. Tell the driver to drop you at Depot Marinda and download MAPS.ME to follow the route. The driver will most definitely drop you at a ´fake´ bus station telling you this is the place where you have to transfer. World´s greatest LIE. We politely kept saying NO to the driver and a persistent group of arrogant guys. After 10 minutes of insisting to drop us at Depot Marinda, they gave up and the driver dropped us at the real bus terminal. The place is full of scams so beware and prepare. There´s a lot of other blogposts online about the mafia scam.
Once reached Depot Marinda, look for a green Bison van. Usually, there´ll be a flock of tourists around waiting for more victims to share the van with. The price of the total van costed 525.000 IDR, divided by 10 passengers. The trip to the hilly town of Cemoro Lawang takes approximately 1 hour. The views are supposed to be pretty cool! But we fell asleep.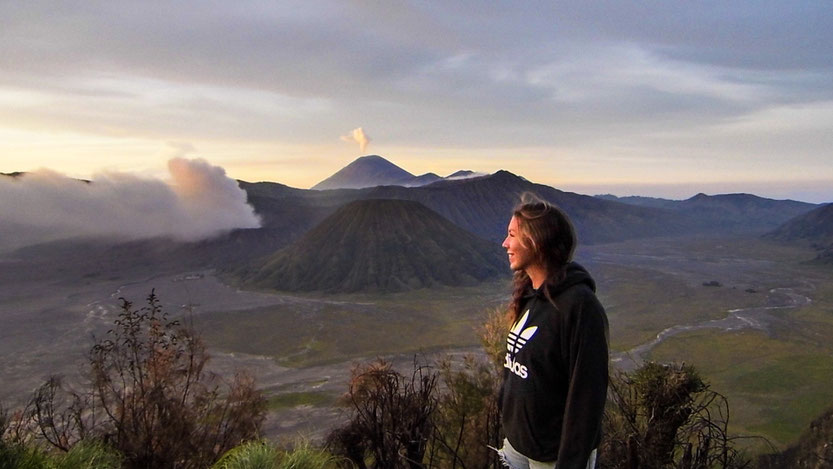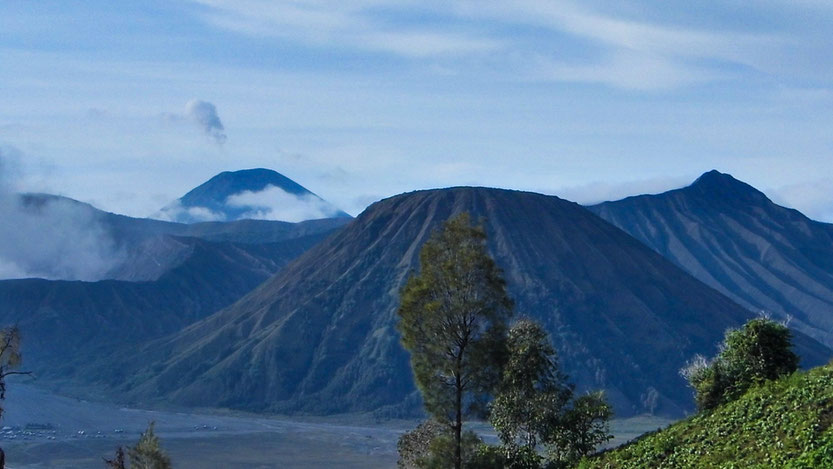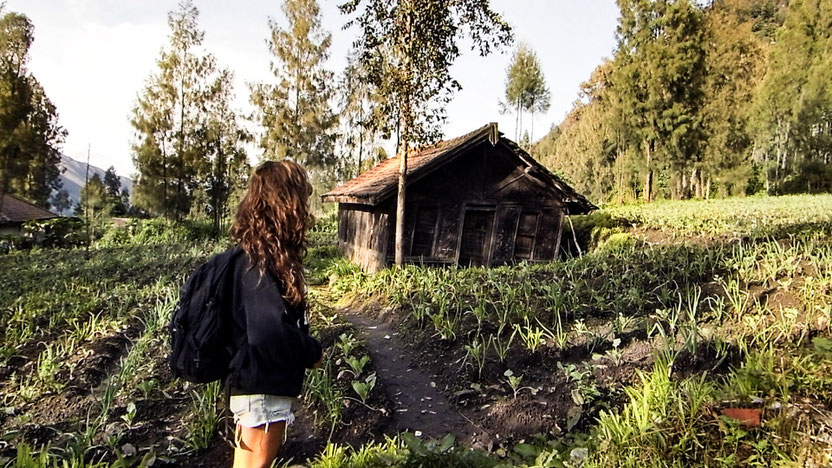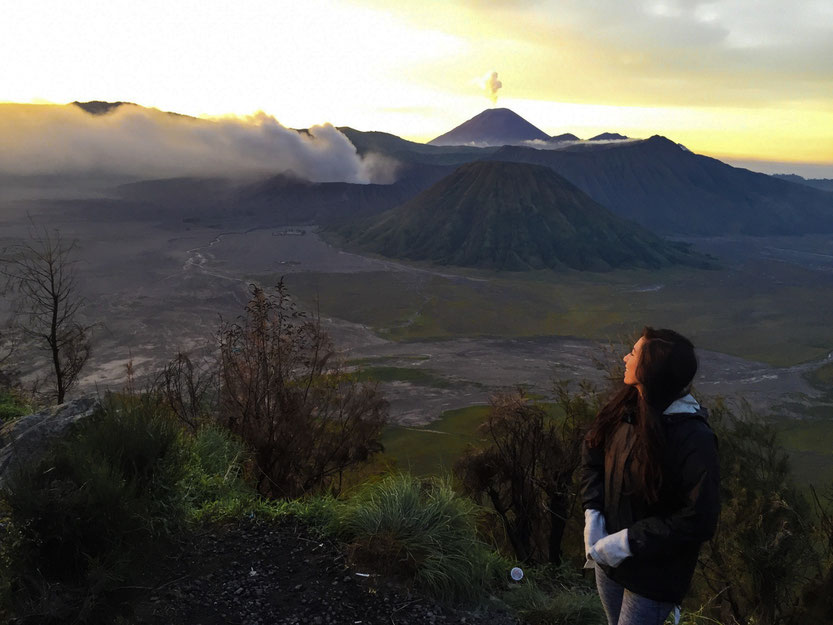 ACCOMODATION
We stayed at Bromo Otix Guesthouse. A homestay conveniently located near the entrance of Bromo National Park. Cheap, clean and thick sheets. There's no hot water but it's perfect for one night.  
TIPS
    

Avoid mass tourism: hike the crater for sunset

    

Go down near the Cemerah Idah Restaurant to reach the sea of sand. There's a steep unpaved pathway going down. 

   

For hiking the view point: take the paved road near the same restaurant. This is the 'free way to Bromo'.

   

Bring a jacket to avoid 24/7 shivering

   

 

Bring plenty of water and a flashlight
     

Buy a local beanie from the toothless sales vendor (bargained it for 1,5 EUR)