Floating accommodation in Indonesia
Meet one of my favorite hotels all time: Le Pirate Explorer Boatel in Indonesia. It´s the next best thing to glamping in the Philippines, a floating hotel concept anchored in a lagoon. Doubtless the perfect accommodation while exploring the Komodo Archipelago in Flores.
An idyllic setting away from the hustle and bustle, a retreat with picturesque views, a private hammock that comes with a private deck, sleeping under the stars AND seeing the sunrise from your bed in scorching heat. Can life be any harder. No sleep, sweating like a pig and loving it.
How to survive the heat? Either switch on the fan in the room, or jump from your bed straight into the water for a refreshing dip. Basically, we spent the days floating in life vests, snorkeling in the lagoon and eating on the upper deck with pristine views as a back drop.
The boatel experience comes with watersport activities such as kayak and paddleboard rental, along with (free) snorkeling gear and complimentary breakfast. Price of one room (two pax) is 30EUR. Furthermore, the upper deck restaurant offers a variety of western style options. We were happily stuffed with chocolate pancakes, muesli, fresh fruits, Mexican wraps and chicken burgers.
Needless to say that the Boatel was a memorable experience. I Definitely recommend having your little slice of paradise here.
Warning: Post-experience of land sickness (Google: ¨Yes, it really exists¨).
How to get there?
1)    Get to Labuan Bajo. Read the details of getting there in my previous post.
2)    Head to Le Pirate Explorer Restaurant and Office (main street). Staff will escort you to the free shuttle service at the port. This sluggish cute boat will bring you to Waecicu lagoon in 10-15 minutes.
Btw, you´ll find it most certainly entertaining to observe how to park a boat. One evening, we decided to hop on the shuttle to the city to run errands (read: buy Nutella for Lauren). When arriving at the port, no space was left for docking the boat. Solution? Dock the boat near the back of another boat. Jump from one boat to another. And jump from the front of the boat onto the pier, in pitch-dark. This was highly amusing. Hint: do not wear flip flops.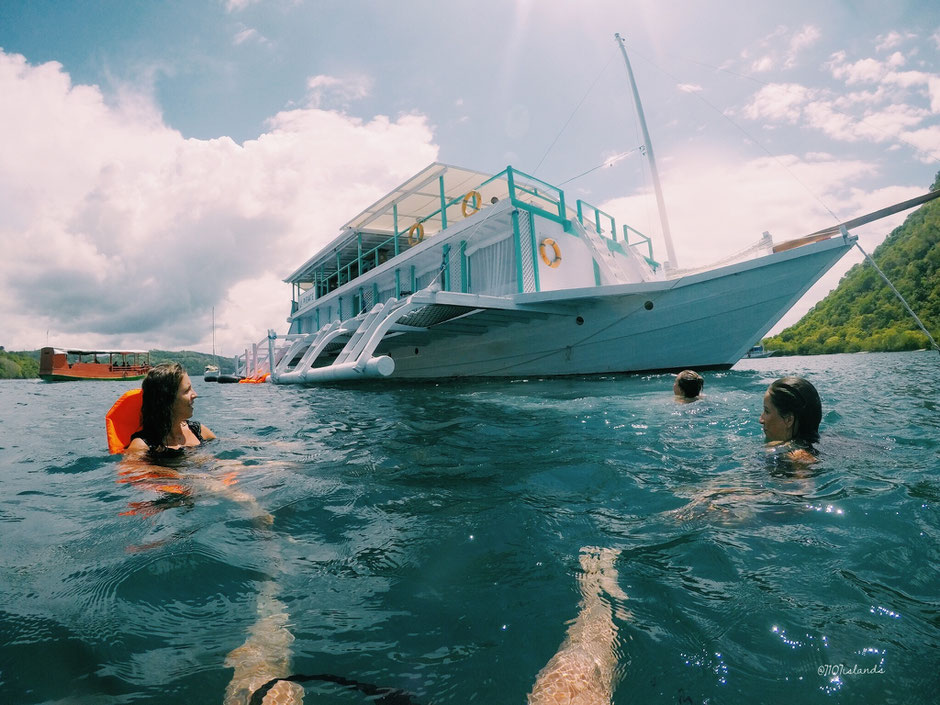 Tips
Sadly enough, there´s a lot of dead coral. Swim further, behind the island peninsulas for colorful coral and fish.
Use the life vests stacked underneath your bed

#SelfMadeFloaties
Smuggle water and beer into your cabin

#BudgetTravelersBeLike
If you´re not able to book the boatel, Le Pirate offers day passes. Inquire at the office, which is located in the main street. Ask for Harry (Thank you for taking care of our group, Harry!)
The free shuttle boat runs at fixed times. However, it is possible to hire a private speed boat for pick-up or drop-off at a time of your choice.
AVOID CONFUSION UPON BOOKING. Le Pirate Explorer also offers mainland accommodation. So don´t book the wrong one. Additionally, Le Pirate offers Liveaboard Tours and Day cruises. Definitely more pricey than the operators in town, but absolutely worth it! The majority of the cheap tours have crappy unsafe boats. Thus, I recommend to plan your cruise with Le Pirate and calculate it into your budget (we didn´t and it was a mistake).

Ask for extra cheese and chocolate topping. The restaurant serves small portions.