Padang Bai
An unspoiled traditional fishing village known to every Bali backpacker as the ferry gateway to the Gili Islands. It´s called Padang Bai, a cute Balinese village located in the South of Bali. Most tourists only pass Padang Bai because it is the departure port to the neighboring islands. But this unpretentious coastal town has much more to offer than solely a port. This charming town is truly underappreciated. It´s the perfect retreat for day trippers en route to Lombok or the Gili Islands.
Ideally, spend 1 day/night at the best dive site of Bali before catching the ferry or speed boat to the next destination. Embrace for white beaches and superb snorkeling. 
What to do?
BIAS TUGEL BEACH (Pantai Kecil)
This is by far the best beach in Bali. A white sandy soft beach with strong currents. To reach the gem, you have to head to the post office in town and turn left on a rocky path uphill. This path includes a short steep trek with a rewarding hidden view behind the cliffs. This beach is probably the most secluded and isolated beach in Bali. The water is quite blue and clean, AND we spotted dolphins close to the shore.
BLUE LAGOON BEACH
A small beach for serious sunbathing and turtle-spotting. It´s a little magical spot for snorkeling, diving and getting sunburnt on the shoddy wooden loungers next to the restaurant. Usually, there´s no space for sunbathing on the sand during high-tide. This quaint scenic setting offers pretty blue water with abundant marine life and washing-machine currents. Be cautious and take the left side of the beach to enter the water, as this gives the easiest struggle-free access to the snorkel site.
Although the beach has no crowds, there is one downside. It suffers from washed ashore rubbish. To make it all up: the restaurant offers pancakes, fruit platters, mango juices and avocado dips (4EUR p/p). 
The beach is located on top of a hill. Head East of the town and follow the signs. Very accessible by motorbike (parking costs 0,75 EUR).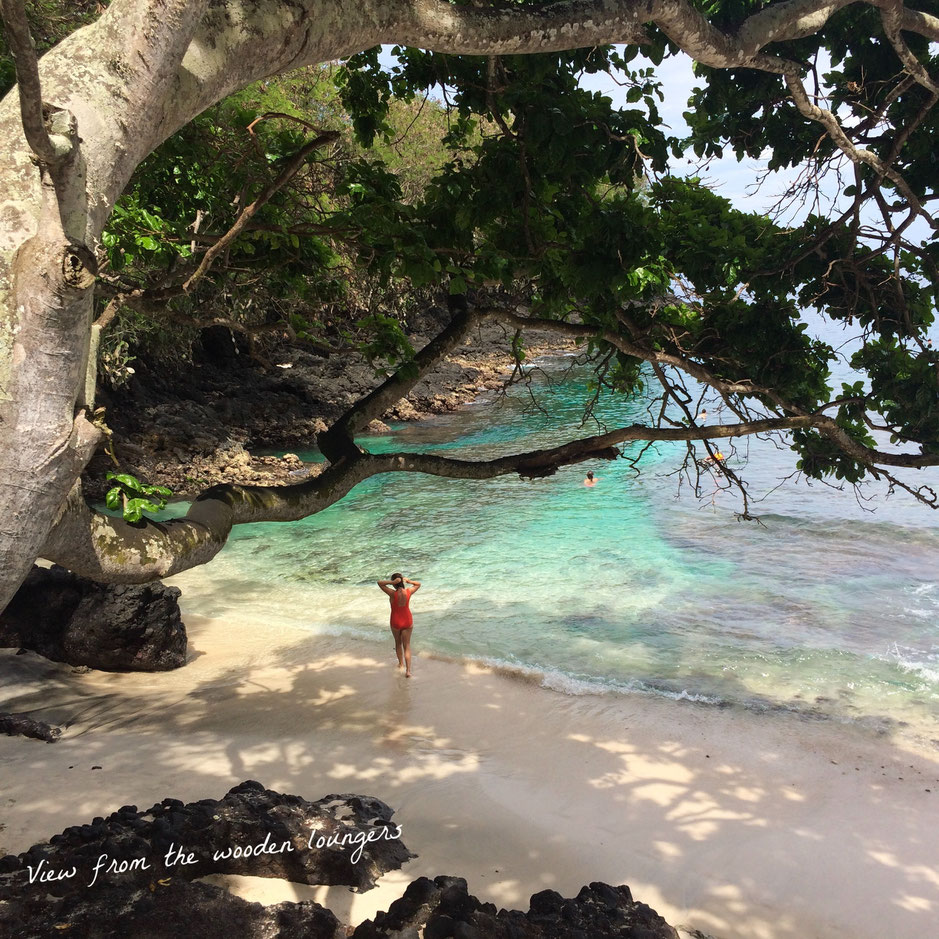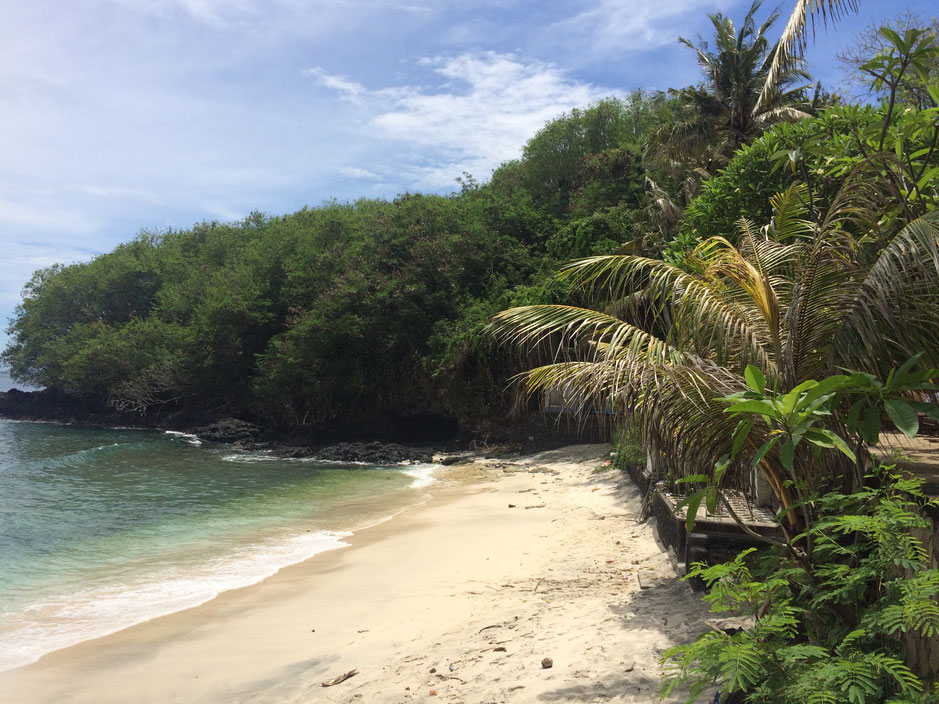 How to get there?
Padang Bai is located 57 km from Bali Airport and it takes about 2 hours. Take a cab from the airport, which costs around 10EUR per person (HAGGLE).  
Food and accommodation
OZONE: Pizza, burgers, fish and live music. 5 EUR for a meal including drinks. Furthermore, cute lounging tables with pillows. And genuine friendly waitresses.
TOP INN

: Cheese!! A lot of cheese!! Live music and an extensive range of delicious brunch/dinner food.
PURI RAI

: Deep fried Calamari and pizza 
Unfortunately we don´t have heaps of overnight recommendations for Padang Bai. We booked last-minute accommodation through Agoda, with Bagus Homestay. This place is backpacker-friendly (6EUR per person per night), offers clean and spacious rooms, and breakfast banana pancakes are included. The only drawback is the hygienic state of the bathroom, which is rather grimy.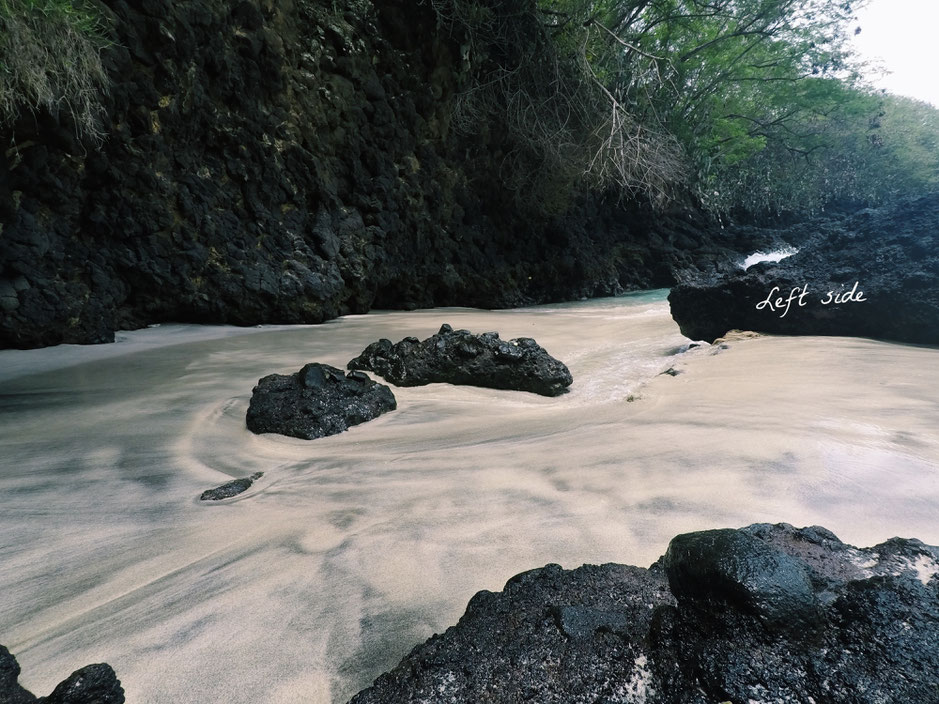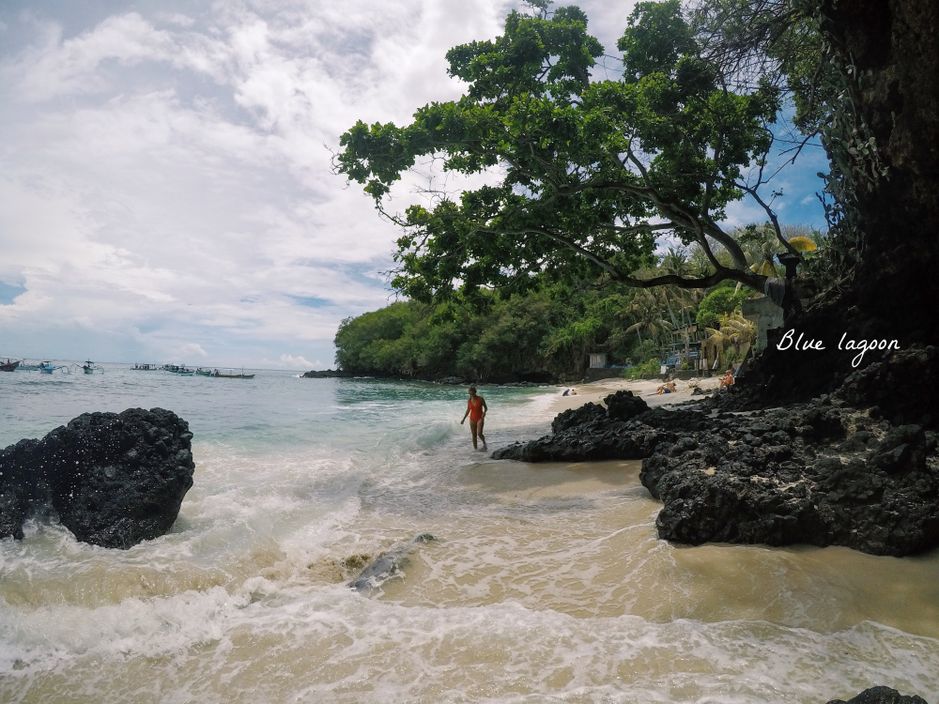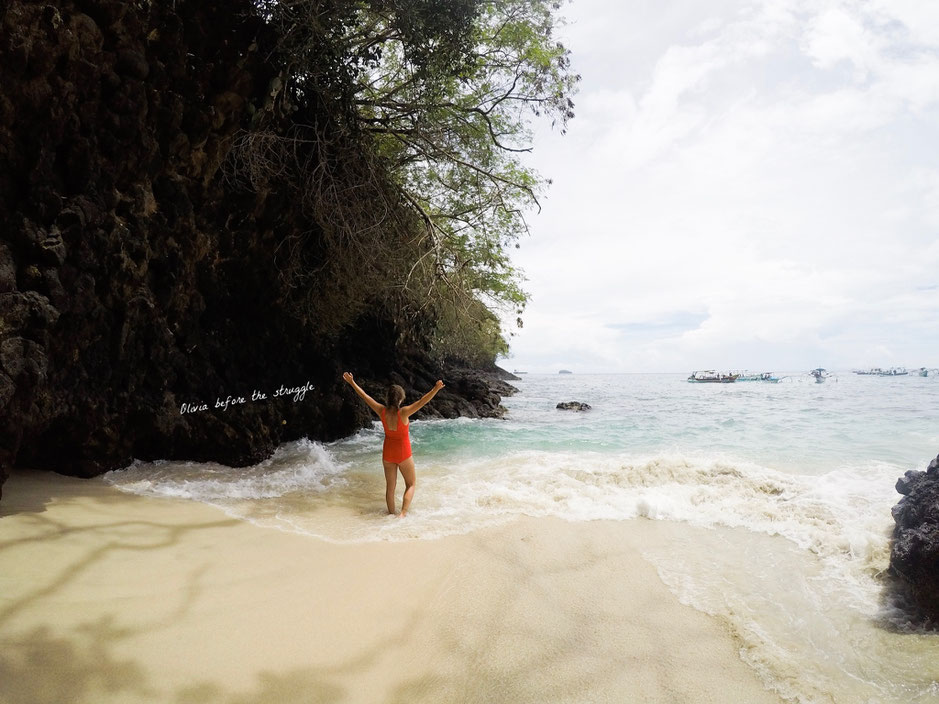 Tips
Bring enough cash as ATM´s tend to be unreliable
Water shoes and snorkeling gear are essential 

 
Be cautious of the rip current.

Olivia struggled swimming back.

Ik stond erbij en ik keek ernaar.