Who doesn't like a little secret spot and adventure? I was in awe after spending half day on Sapi Island, 20 minutes of boat from Kota Kinabalu, the capital of Malaysia's Sabah state. Not only is the teal water so crystal clear that you can see fish underneath and wildlife so abundant that being in the woods listening to the music of nature was virtually a spiritual experience, I found 2 hidden spots on this island that I cannot wait to share with the world.
Yes indeed there are other islands nearby that are worth visiting, Sulug, Gaya, Manukan, Mamutik islands etc. But there are plenty to explore on this particular island: beaches, fascinating animals and trails. The main beach on Sapi has everything essential: powdery sand, coconut vendors, restaurants, water sports gear rental, lockers, shower and restrooms. What makes it precious is that there are peaceful places that aren't known by most tourists. Just some walk from the pier, you'll find yourself in secluded haven.
Ready?
The first secret hideout is a stone beach 10 minutes away from the main beach. After the entrance of Sapi, turn right and follow the pavement.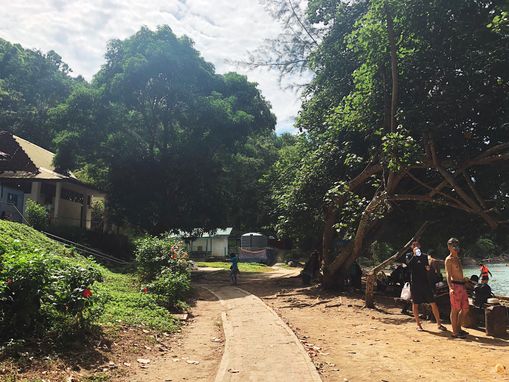 On the way you'll see some houses and a not so precise map, just follow the concrete pavement into the woods.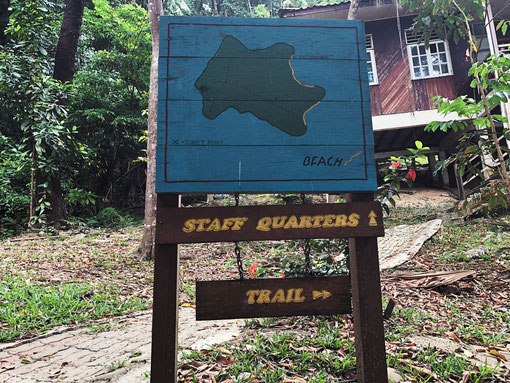 You will find yourself accompanied by some magnificent reptiles – monitor lizards. Don't worry though, they are not hostile. I spent some time just standing still and waited for these fascinating lizards to show up.
After passing the zip line point you'll come across some small beaches but those aren't special enough for me to stay. Keep walking for about 600m and you'll see a wooden bridge.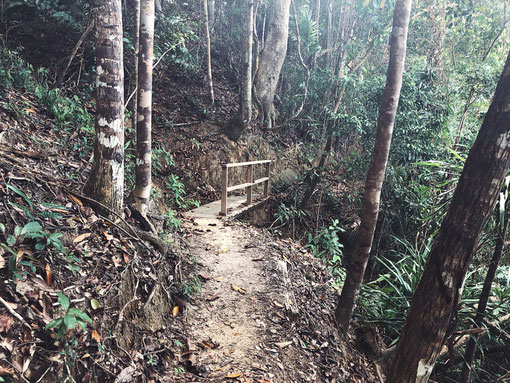 Another 5 minutes of walking you'll find this peaceful stone beach.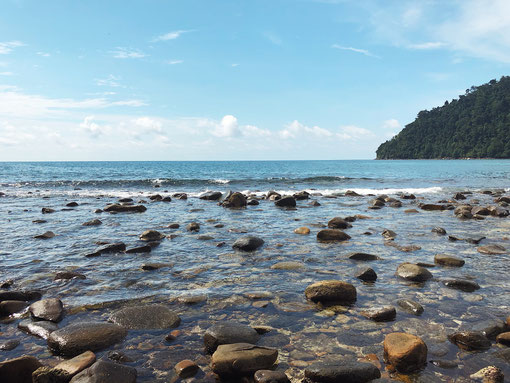 The stone beach is not the only place where you can escape from the crowd, on the other side of the island beholds this secret cliff that is a perfect viewpoint to the turquoise water of surrounding islands. It requires more walking but I promise you, it is worth the sweat. I learned about this cliff from a local when I asked him if he could recommend me a place that is tucked away. My eyes brightened at hearing "secret cliff" and I did not regret choosing to check out the cliff instead of snorkeling further.
The starting point is right behind the main beach.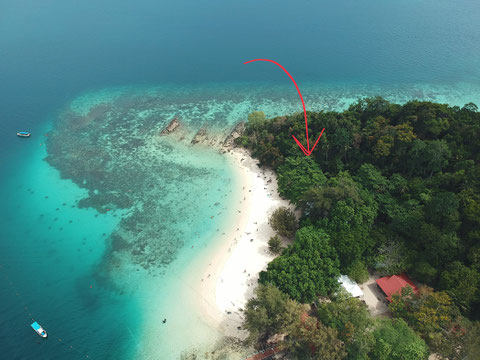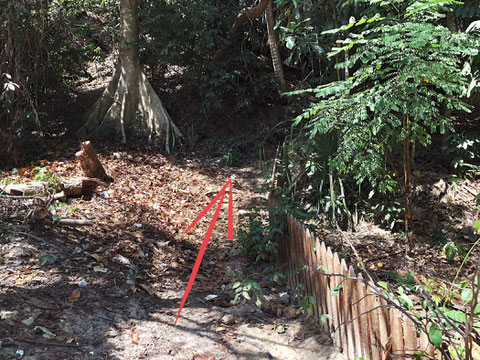 It's a bit of a climb at the beginning but after seeing this green shrine (or whatever it is),  it'll be easy as a breeze.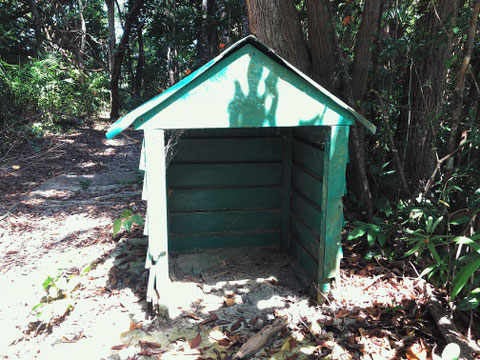 Enjoy the sound of nature and appreciate the beauty of more monitor lizards on the way, after 500m you will see an intersection.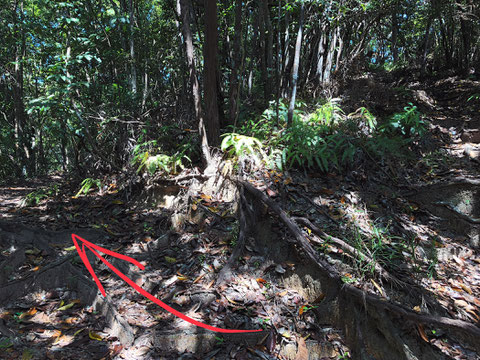 Go left and walk another 400m you will see this sign, on the right side is the lookout.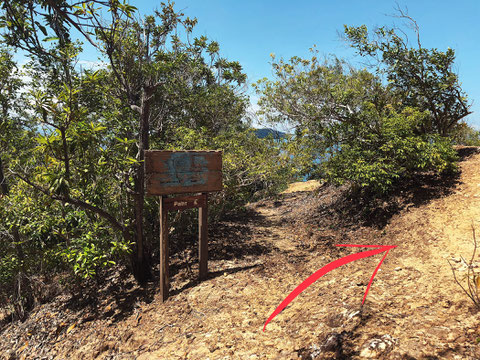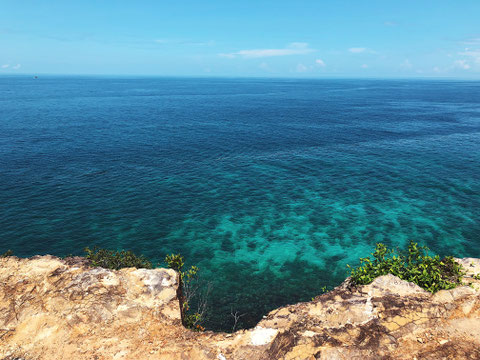 Voila! These are what I stumbled upon during my trip to Sapi Island. Is there any more secrets that you know on islands around Kota Kinabalu? Share with us! And don't forget to follow our Instragram @7107islands for more hidden gems!
How to get there?
Take a cab to Jesselton Point, pick an operator at the pier.
Ask for Sapi Island or take an island hopping package. Time to go to different islands and to go back to the city is flexible, negotiate with your operator and make sure they write what you paid for and return time on the receipt.
Wait in the waiting area and this piece of paradise is about 20 minutes away from Kota Kinabalu.
How much will it cost?
From Kota Kinabalu airport to Jesselton Point (the pier) : MYR10 (USD2.5) if you use the app Grab (Uber is banned)
From Jesselton Point to Sapi Island : MYR23 (USD5.8)
Conservation fee for Tunka Abdul Rahman National Park (which is made up of Gaya, Manukan, Sapi, Sulug and Mamutik island) : MYR20 (USD5)
Snorkeling mask and fins rental: MYR10 (USD2.5)
Lockers on the island : MYR 10 (USD2.5)
Tips:
Early birds get the worm! If you want to enjoy island hopping in Sabah try taking earlier boats. Operators in Jesselton Point usually start their island hopping trips around 8:30am, the last boat to go back to Kota Kinabalu is 4pm. Water is clearer in the morning and it means more time to explore other islands.
The walk to the cliff takes about 20 minutes and is not difficult at all but it can get slippery due to the weather, so wear sneakers to be safe.

Food and water are overpriced on islands, for travelers who are on budget, bring your own supply to save a few bucks. If you're snorkeling, get the gears at Jesselton Point as it will be cheaper.

Bring bug spray or repellent. A LOT OF IT.