Why Valencia in the first place? Because it´s so underrated, it´s the perfect gourmet destination and you can bike all the calories off (hashtag GirlsBeLike).
A mini itinerary for rookies, thanks to our best guides and hosts Arthur and Fien.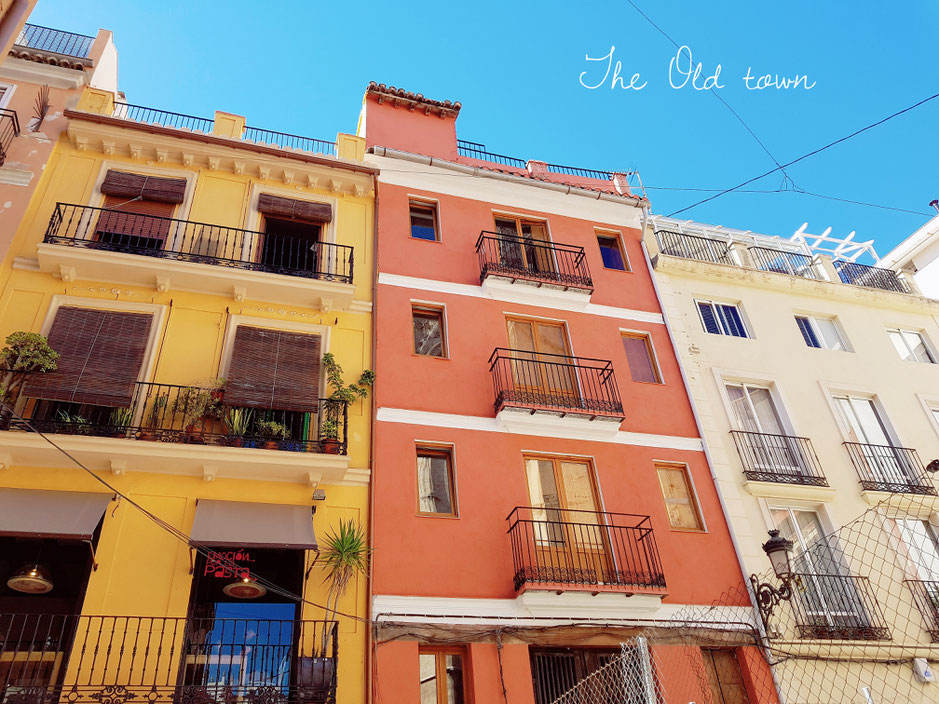 Mediterranean beaches, architectural landmarks, traditional paella, mouth-watering tapas, and agua de Valencia. This basically sums up the city of oranges, blessed with a sunny climate and a lower number of tourists than her sister cities Madrid and Barcelona.
This city happily living under the radar, is small enough to explore on foot and big enough to enjoy a list full of activities. Almost every corner of the street is undeniable picture-perfect, with tropical palm trees lingering in the backdrop. The Mediterranean metropolis has everything you want within close proximity. A city center with a balmy blend of old and new, and a lot of glorious medieval buildings. Moreover, everything is easy accessible by bike, which makes Valencia the perfect authentic eco-friendly travel destination.
Navigating into your city trip can be burdensome, so we thought of providing you some inspiration with this mini pocket guide. We were lucky enough to be shown around in this gorgeous part of Spain by two friends. Thus, we are passing their recommendations down to you for the best Valencian experience. 
WHAT TO DO ?
Get lost in the streets of the old town
Walk around in the tangled maze of the authentic streets and squares in Valencia. Barrio del Carmen is one of the most popular areas in the city´s old quarter. The narrow cobbled streets represent the vivid remains of ancient Muslim and Christian history, which is beautiful to stroll through. There´s also this charming little street with a vintage shop that´s cute to stroll through, called Carrer de la tapineria.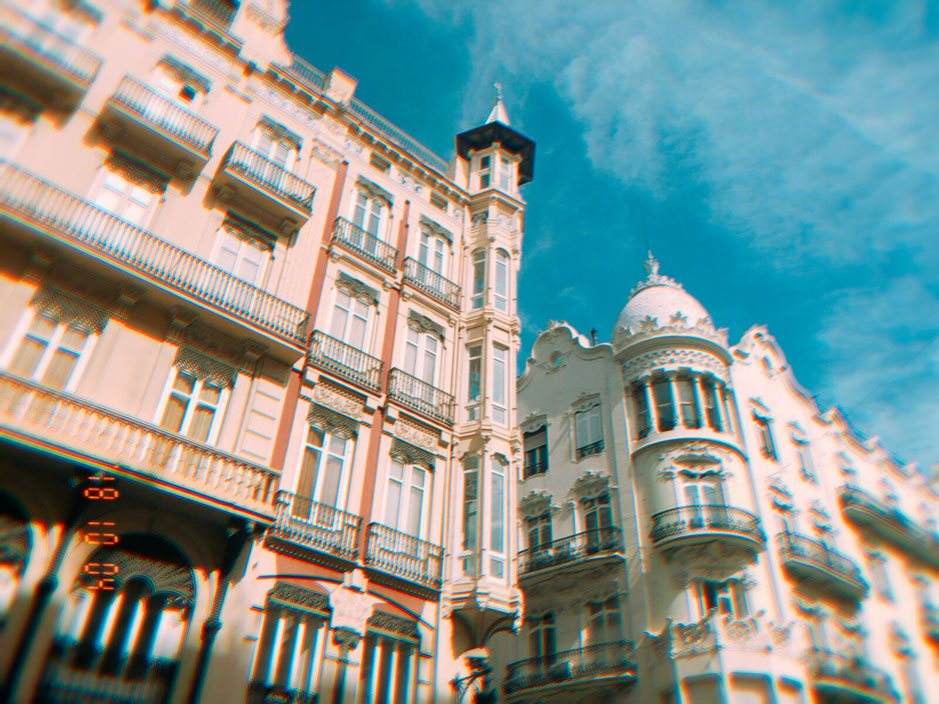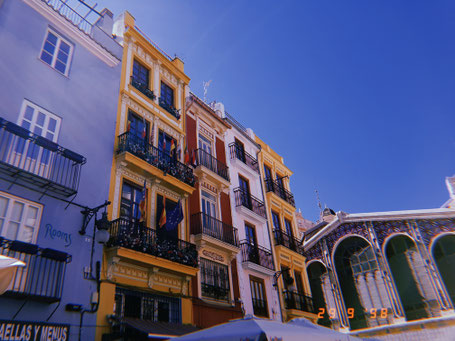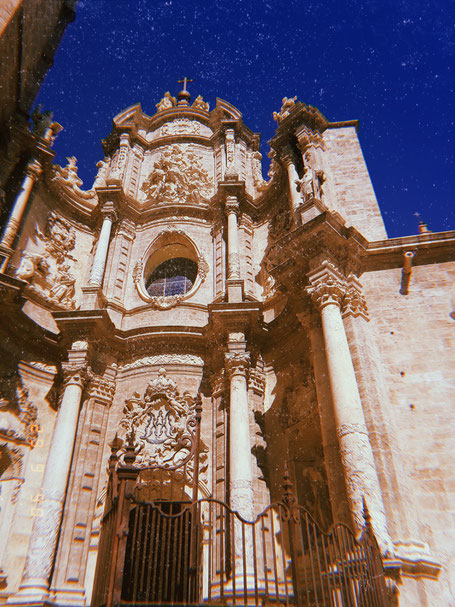 Walk through Mercado Central
Every food lover´s dream! Visit one of the largest fresh food markets in Europe and indulge in good food. This market reminds me of the Boqueria Market in Barcelona, so if you´re a foodie this is the place to be. Arthur recommended lunch in ´Central Bar´, located in the heart of this busy market. It´s an affordable Michelin Guide restaurant, popular among locals, and a hotspot for tapas! Best to go during weekdays as it gets  busy during the weekends.
City of Arts and Sciences
Don´t forget to visit Valencia´s pride and classic masterpiece, known in Spanish as la Ciudad de las Artes y las Ciencias. It´s all about science, art and nature all together in one modern complex. This is the ultimate instagrammable place to admire the beautiful scenery of futuristic buildings. Wanna go for the ultimate Tourist Trophy? Head to the crystal clear lakes of this complex and rent a transparent kayak, a waterbike or even a waterball. 
In addition, this complex also includes Europe´s largest aquarium and an open-access garden/nightclub (L'Umbracle).
Bake at the beach
Get your tan and take a dip in the refreshing waters of the Mediterranean sea.
Here´s a list:
Playa de la patacona
A local beach scene near the city with a couple of small restaurants. There´s also a cute beach bar called Maramossa (try the watermelon shake). Parking space is available here, as we went by car. However, if you don´t have a car, the beach is accessible by bike, which will probably takes around 20 minutes. The perfect non-hyper tourist beach where safety and pickpocketing is rampant.
La Malvarrosa
Probably the most known beach, as it is the most accessible one by metro and located near the city of arts and sciences. La Mavarrossa is a large stretch of beach with a lively appearance of bars, restaurants and activities. Apparently, this is the hyper-tourist one, but we didn´t experience any burden or crowds near the beach stretch of ´Marina Beach Club´.
We grabbed late lunch at ´Marina Beach Club´ after a bike ride (without GPS-signal, consequently dealing with a couple of angry pedestrians). Woops, wrong bike paths. The Beach club is a good pit-stop for a quick refreshing drink, but we went to the public beach after lunch as the beach club seems quite luxurious. However, if you´re into some luxurious sunbathing, fancy round beds and hammocks are available for around 15-20EUR. 
Port Saplaya 
We really wanted to visit this beautiful colorful port! We had to skip this part due to lack of time. So if you have the time, definitely have a stop in Valencia´s little Venice. Google says it´s beautiful and it has all the pastel buildings you could ever imagine. From the Promenade of Malvarossa you can reach Port Saplaya by bike, which probably takes about 40 minutes (if you have GPS signal). Otherwise, it´s possible to go by bus number 112.
El Saler
A peaceful beach where you can find good paella. El Saler is not far from the city and it´s easy accessible by bus or car.
Sagunto Beach
Clear waters, located 24km from Valencia. Free parking space.
Cullera
This beach is popular among locals and it has good traditional Spanish food.
Pinedo Beach
A tiny, peaceful beach good for couples or families.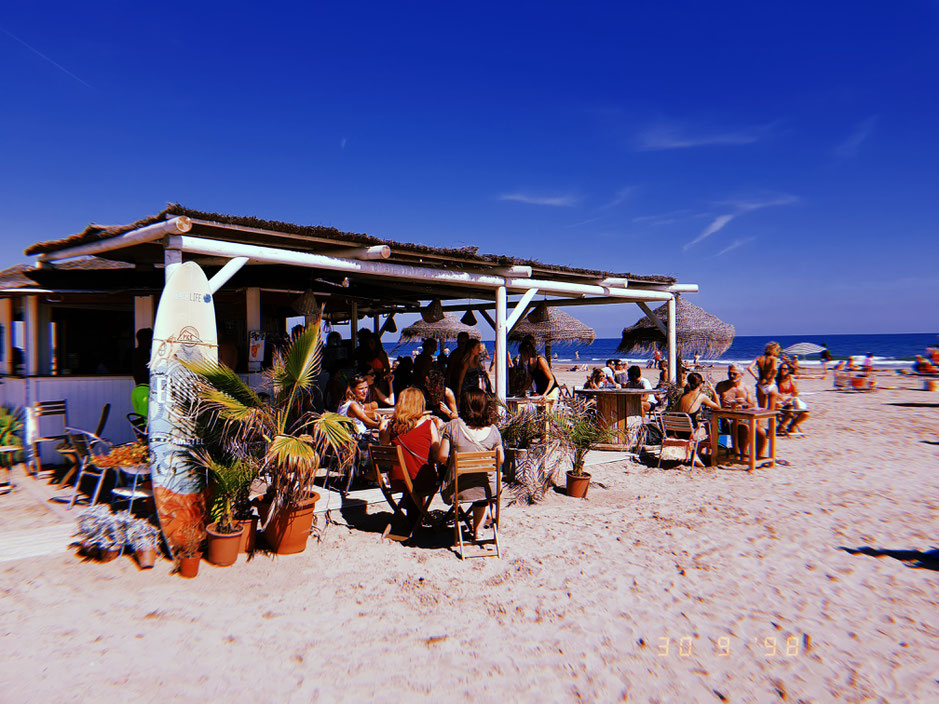 Climb up the Torres de Quart
Perfect if you have any spare time and want a quick glimpse of the old city. The views are not that spectacular but it´s a nice butt workout.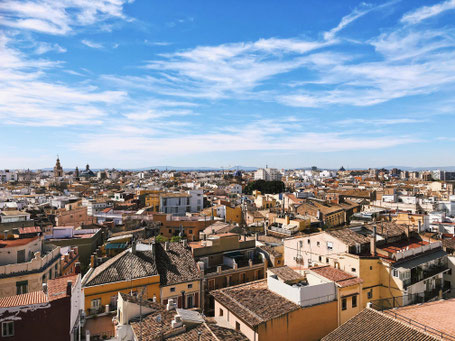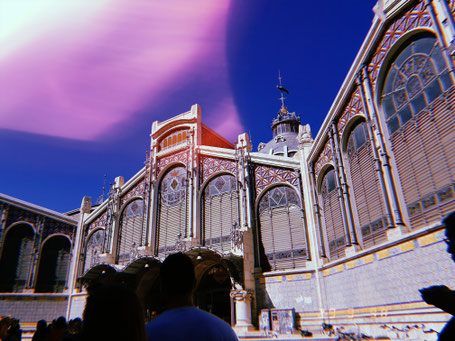 Turia Park
Burn more tapas off with a bike ride through Turia Park. It´s a 9-kilometer park, that was once the basin of a river running through Valencia. The park has beautiful medieval and modern bridges, fountains, terraces and alluring gardens. High levels of chill here. 
Catch a glimpse of the old Silk market and the Cathedral
The UNESCO-listed silk market reflects a masterpiece of Gothic architecture, thus worth catching a glimpse while sightseeing. The cathedral on the other hand, is a mash up of Baroque style, Roman architecture and Gothic characteristics.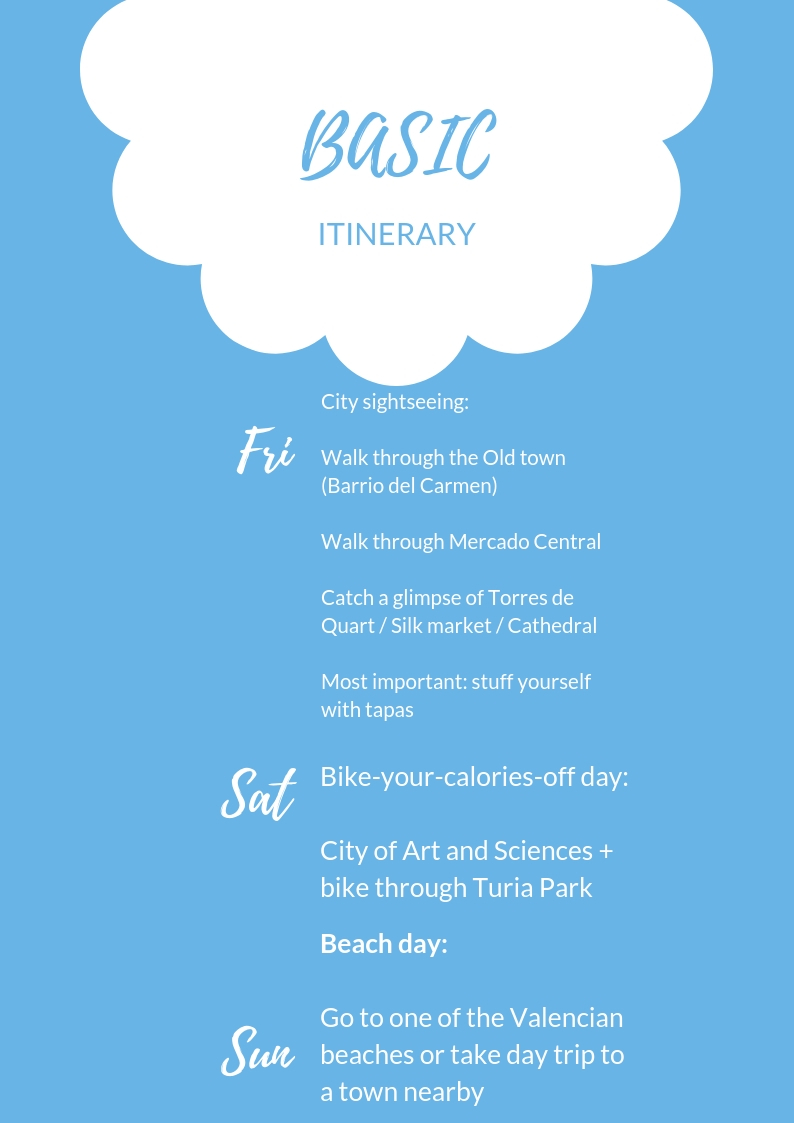 WHERE TO EAT?
Bluebell coffee
Federal
La Santa (seriously the best tapas I´ve ever tried)
La Bernarda (Taste the Agua di Valencia here. And don´t bike after it)
La romana icecream (still dreaming about their tiramisu)
Sagardi Tapas
Dulce de Leche, a recommendation from our friend Elizabeth for croissants.
Gordon 10 if you want meat for dinner
La Mas Bonita
La Lola (coffee and tapas)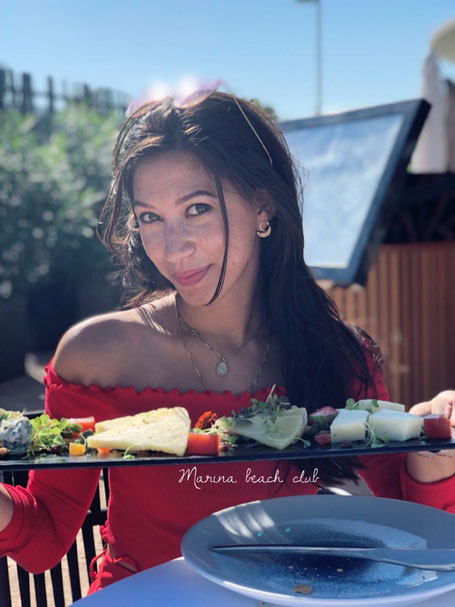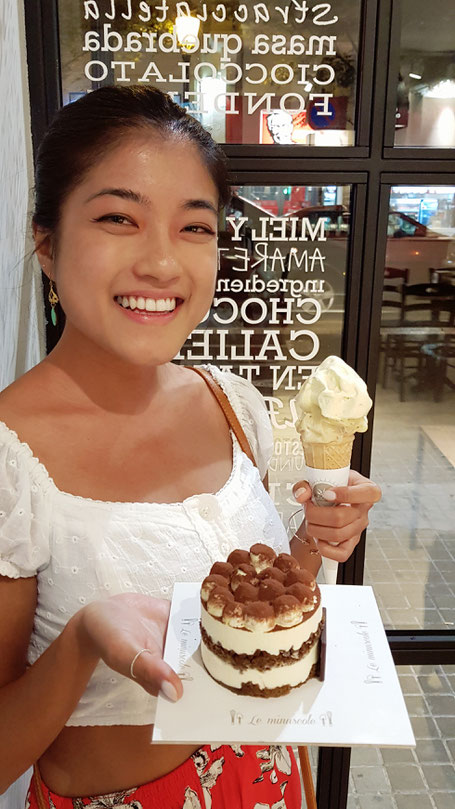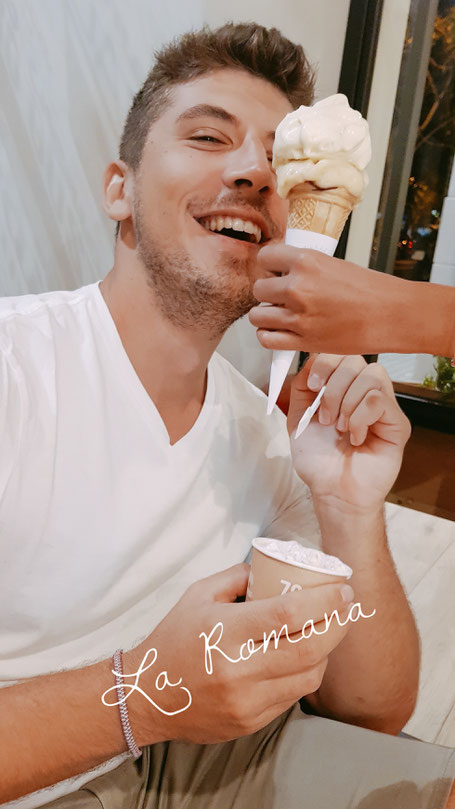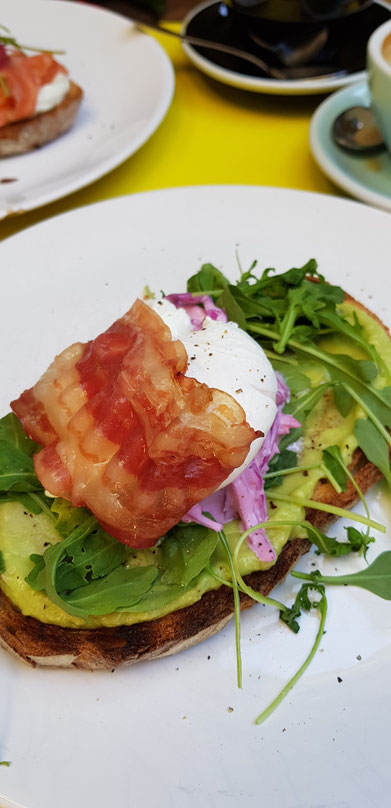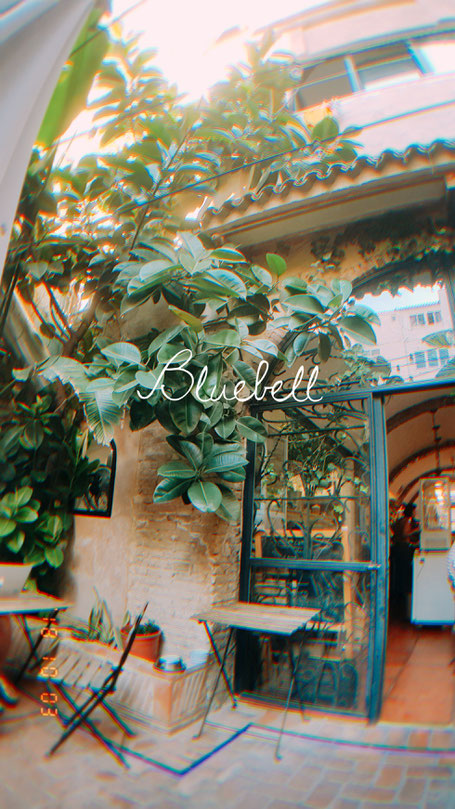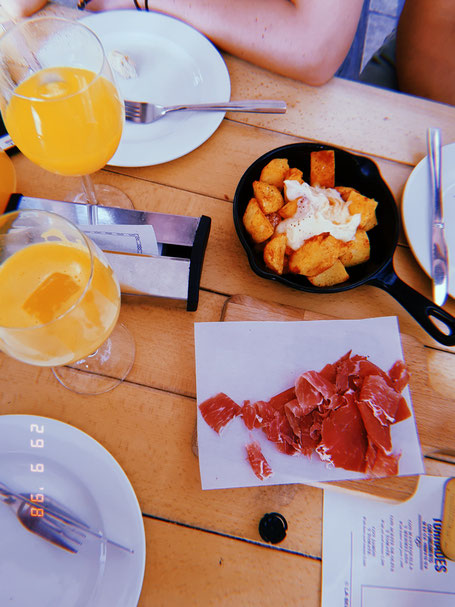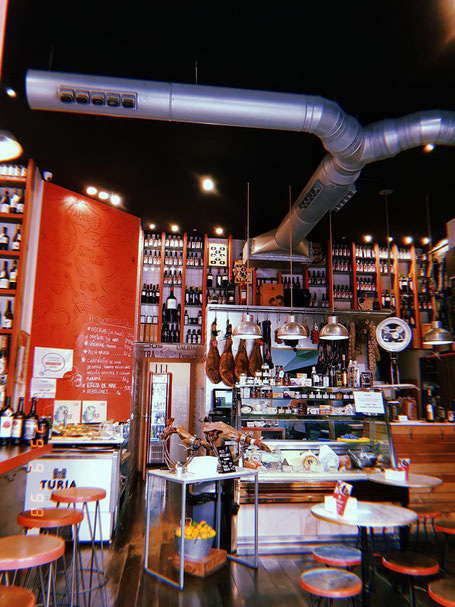 HOW TO GET AROUND?
The most convenient, efficient and time-saving way to get around is by renting bicycles. Traffic is busy but manageable as there are plenty of cycle paths available. Bonus: most of the bikes have a big bike basket in front for all your beach stuff.
We absolutely love the fact that Valencia is a sustainable tourist destination!
The company we used for the bike rental was called Passion Bike. There is one branch in the city and one in Ruzafa (we rented our bike here because we had lunch at Bluebell). The intern of the Ruzafa branch was Dutch and o so friendly!! We absolutely recommend. 
1h – 4 EUR
4h – 8EUR
24h – 9EUR
Weekend 14  EUR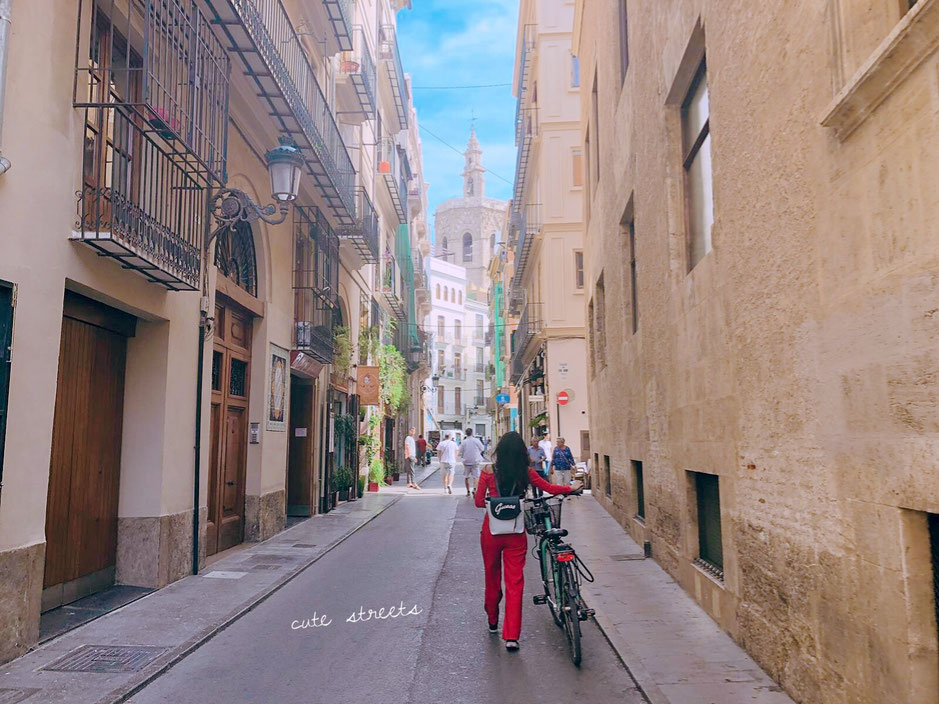 FROM THE AIRPORT TO THE CITY?
A taxi ride is less than 20EUR.
Metro is the simplest and cost-efficient way. Head to the Metro sign in the airport and take line 3 or 5 to the city center (Colón). A ticket costs 4.90 EUR and the ride takes about 25minutes.
The Aerobus costs 2.5EUR and takes about 40 minutes to reach the city. The bus goes every 20 minutes from the airport. 
DID YOU KNOW?
Birth place of paella!! (pa-e-Ya)
Horchata is the traditional local drink (made out of tigernut)
Europe´s biggest street party is in Valencia. The Fallas Festival attracts 2 million tourists in March
TIPS AND TRICKS
Try a café Cortado (shot of espresso with a short dash of milk)