Korea is one of the most surprising trips I have ever gone on. I flew there without any itinerary, nor expectation. But Seoul. Blew. My. Mind. As soon as I stepped out of the subway station of Itaewon, I fell in love with this city at first glance. The neon lights, lively neighbourhoods, effortlessly stylish people, street food every corner…what's not to like? In this edgy city where everything is developing at the speed of light, a trend pops up and caught my attention – animal cafes. Yes, I know there are plenty of those elsewhere, I'm no stranger to dog and cat cafes. But Seoul takes animal cafés (and whole lot of things) to another level! That's really something that made my Seoul trip memorable, wild ideas Koreans have that make you go "WHAT?"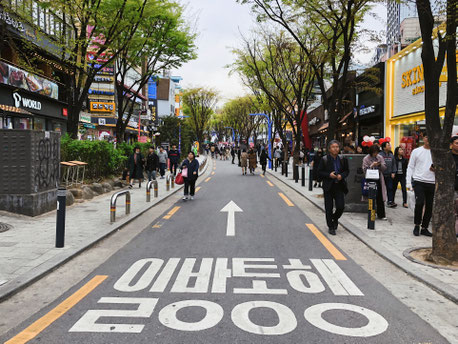 Street in Hongdae, a vibrant area filled with restaurants and shops.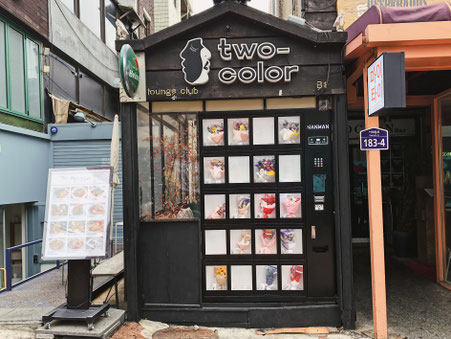 Found a vendor machine where you can buy fresh and minimalistic bouquets. Genius!
I visited 3 animal cafes during my stay in South Korea, and they are nothing like what I have ever been. What makes it better? They are all located in the heart of this lively area where you can find anything, from Korean beauty products, comfort food, to arcade machines: Hongdae.
Raccoon Café
Located in the heart of Hongdae, Racoon café is accessible and unlike other animal cafes, it has proper food and drinks. You just have to pay for a drink as an entrance (around 9000KRW) and get a locker to store your belongings you are good to go inside the raccoon playground. Despite being domesticated, these adorable raccoons still have their primitive habits of scavenging, so make sure you don't have anything in your pockets before heading in.
Meerkat Café
This café is not as well known as raccoon cafe but it's where you can cuddle with meerkats, yes. A paradise of Timon. It's forbidden to carry or lift them, but you can let them climb all over you.
I found this by accident and it made my trip even more unforgettable. It was one of those busy weekend nights Hongdae where people are out for drinks and shopping, I was cruising through crowds of people, street food stalls and a sign saying Meerkats Café caught my eye and there I went, forgetting whatever plan I had in mind. To my surprise, it's not just an animal café with meerkats, you'll find raccoon, kangaroo, foxes (though you can only catch them by glimpses cause they run like lightning) and Bengal cat. Putting this sentence together got me saying Korea really is something.
Make sure you read all the instructions before starting to play with the animals, I got kicked out of the meerkats area because I didn't clear my pockets before heading in and a Timon dug out a subway ticket from my pants. These animal cafés take hygiene and animal safety very seriously and I admire that. If only I could stayed longer with these balls of fur.
Thanks Nature Café (Sheep Café)
It's located near Raccoon Café, a home to two sheep, Honey and Sugar that only "a cloud of fluff" can describe. Peaceful and perfect place to rest and have a small bite after a day of walking around, the sheep are right outside of the café ready for your attention.
These are few of the things that make me fall in love with this city besides its oriental delicacies and vibrant city life. When you plan your next trip to Seoul where madness is madder and colors are brighter, try slipping these cafes into your itinerary, and be ready to be murdered by cuteness and fluffiness.
.
.
.
.
.
.
.
.
.
.
.
.
.
.
.
.
.
.
.
.
.
.
.
.
And hey! Since you managed to read through the whole article without falling asleep, I have a little something for you as a thank you. It's heavenly, something you must not miss if you ever visit this beautiful country.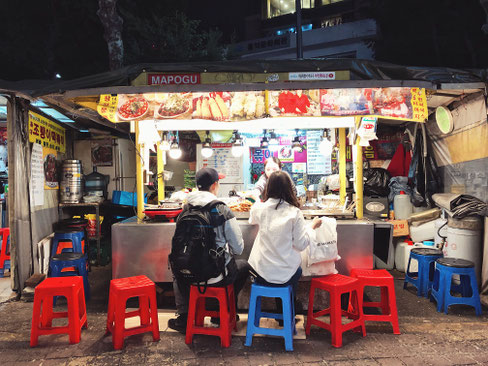 To me, cuisine represents history and culture. It is one of the best ways to learn about a city.
When you pass by any street food vendor, besides trying what's displayed, you have to taste what they cook their food in: the soup. It's made of anchovy, ginger, onion, radish and seaweed, something I cannot get out of my head since I left Seoul. Mind you, it's addictive.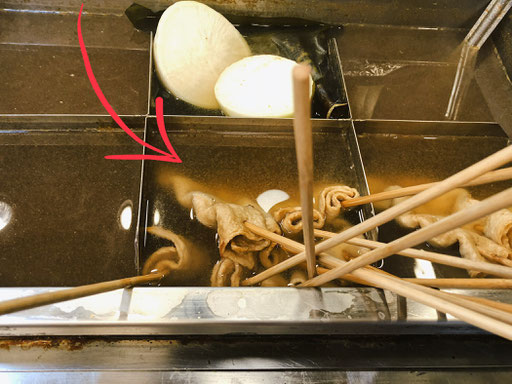 Ask for a bowl and savor this soup, promise you won't be disappointed!